Customize the Auto Attendant greeting for any occasion by recording and uploading an audio file or any audio file stored in the announcement repository. For example, if your business is closing for a holiday, you might want to upload a greeting letting callers know ahead of time to deliver a better customer experience. Once the greeting has been recorded and uploaded to Nextiva Voice, you can change the Auto Attendant greeting at any time by following the instructions below. For information on uploading a greeting to the Announcement Repository, click here. 
Visit 

www.nextiva.com

, and click Client Login to log in to NextOS.
From the NextOS home page, select Voice > Locations > Manage Locations > select the location > Announcements > Upload to add a file to the location's announcement repository.

Click Advanced Routing > Auto Attendants > Manage Auto Attendants > select the auto attendant to apply the file to.

Select either Business Hours Menu or After Hours Menu > select the Greeting > Save.
NOTE: It is always a best practice to make a test call to your Auto Attendant to ensure it is set up the way you prefer.  If you have any questions, contact our Support Team here or email us at support@nextiva.com.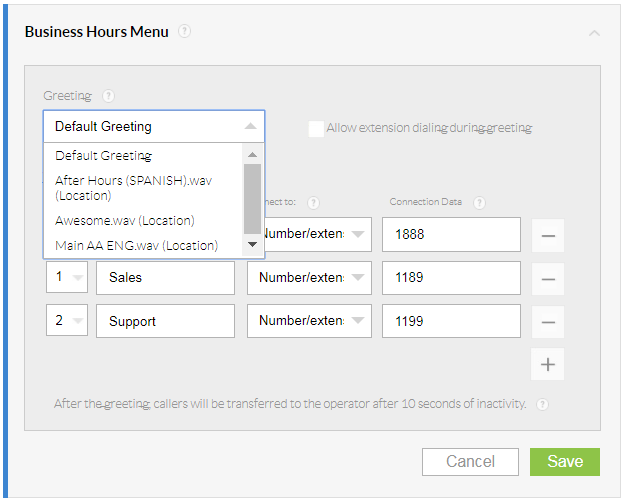 Greeting Menu