What will my invoice look like?
Here is a sample invoice (Figure 1-1).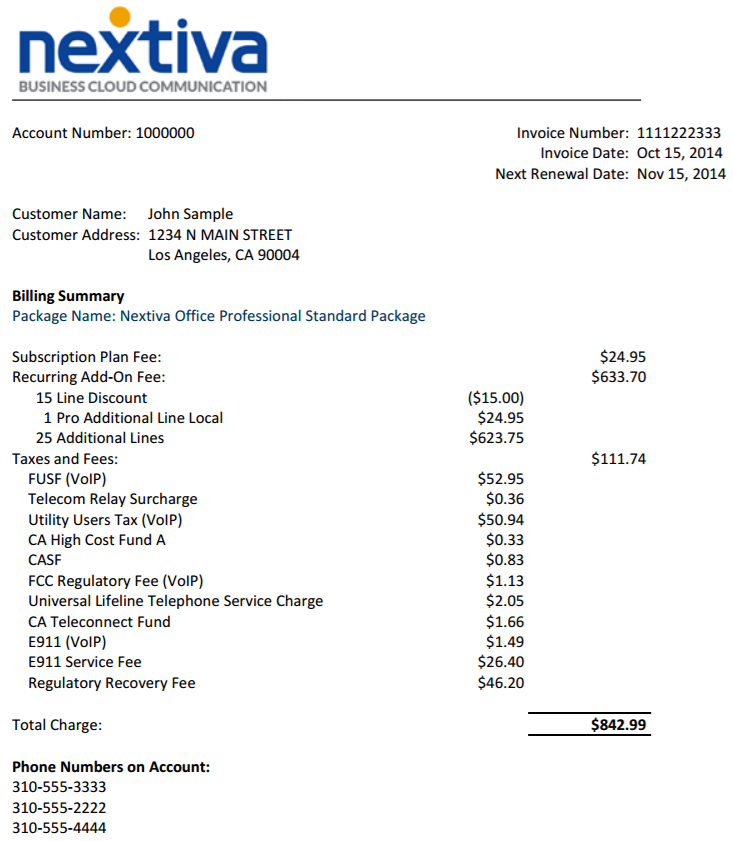 Figure 1-1: Sample Invoice.
Your invoice will show:
Corporate Account Number
Company Name
Invoice Number
Invoice Date
Next Renewal Date
Customer Name
Customer Address
Under Billing Summary, you will see:
Package Name
Subscription Plan Fee (How much one line of service costs)
Minutes Usage Charge (This will display any overage such as toll free, international, etc.)
Service Charges (This will consist of E911, RRF, and USF charges)
Total Charge The entire cost of your monthly bill
Your invoice will also display the phone and fax numbers associated with the account and your billing and credit card information.
---
How does Nextiva bill for services?
Nextiva automatically processes your monthly, quarterly, or annual renewal at the start of your billing cycle. Your billing cycle date is the day you signed up for service with Nextiva. The renewal is charged to the current payment method on file automatically per the terms and conditions. The primary email address on file will receive a pro-forma bill prior to the renewal date, and then a bill/receipt after the charge is successfully processed. This bill includes your monthly subscription charge (commonly a one month payment) as well as any applicable charges accrued during the previous billing cycle (toll free usage, minute overages, and international calling fees).
To view and access your billing information or make updates, please read the article HERE.
---
How am I notified of my renewal?
Our customers are notified via email about 5 days before the billing cycle renewal date. This "pro-forma" invoice allows you to view the charges that will automatically be assessed on your renewal date. The pro-forma will include the toll free and credit usage on the account as of that date, if applicable. The actual billing total may change if additional toll free, international, or minute usage calls are placed or received in the interim. The invoice may also alter if additional product offerings are added to the account. Should you have any concerns regarding your pro-forma invoice, please contact billing@nextiva.com.
---
Is a receipt provided to me after my credit card is charged?
Yes. Once your renewal has been successfully charged, Nextiva automatically sends a copy of the receipt to the primary email on file. To view past invoices or make updates to your card on file, please read the article HERE.
---
Can a partial payment be applied to my renewal?
Sorry, partial payments are not currently accepted. The total renewal amount is due on the billing cycle renewal date each month. If payment is not received within 7 business days of the renewal date, service may be affected.
---
Can my renewal be processed on two different credit cards?
Sorry, partial payments are not currently accepted. Renewals can only be processed on one credit card for the full amount owed.
---
What if there is a problem with my credit card?
If your automatic renewal cannot be processed for any reason, we will notify you immediately via email of the decline. The payment process will be reattempted the next day, continuing for about 7 days before the service may be interrrupted. If we do not receive payment within 7 to 10 days, your account may be disabled. To avoid a suspension of service it is important to make sure your credit card information is correct and funds are available. To update your credit card, please read the article HERE.
---
Does Nextiva charge late fees?
Nextiva does not charge late fees. However, if services are disabled on your account due to non-payment, a reactivation fee up to $25.00 may be applied once a valid payment method is authorized once again.
---
Will I receive a paper bill?
Nextiva does not provide customers with paper bills. Invoices are available online through the NextOS portal, please read the article HERE for access.
---
How long are my bills saved on the online account management site?
Nextiva stores all of your invoices online for the life of the account. If you need an invoice and can't find it, please contact us via email at billing@nextiva.com.
---
Who do I call if I have questions regarding my invoice?
You can always call our support team at 800.285.7995 or via email at billing@nextiva.com.
---
What are these taxes on my bill?
Nextiva is required to collect taxes and fees on behalf of federal, state and local government entities. Taxes are based on your location and are subject to change. Below are some standard taxes and fees added to each line of service on an account (Figure 1-1).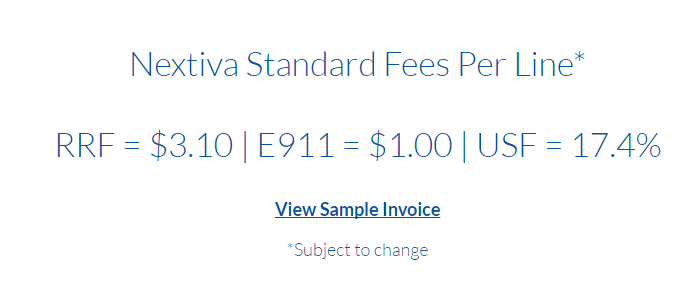 Figure 1-1: Standard Fees Per Line.
For more information, or tax details by state, please click HERE.
---
What is the Regulatory Recovery Fee?
The Regulatory Recovery Fee, or RRF, is intended to offset certain costs incurred by Nextiva in providing your phone service. These costs include supporting services such as state or local universal service, providing disability access and certain state and local sales, use and telephone taxes. The Regulatory Recovery Fee is $3.10 per phone line per month. An additional pro-rated percentage will be added for any virtual number on your account.
---
Why do you charge a regulatory recovery fee when VoIP is not regulated?
It is incorrect to say that VoIP service is not regulated. VoIP service is regulated by the Federal Communications Commission (FCC), but as an information service rather than as a telephone service. Thus, it is regulated in a different, less comprehensive way than traditional telephone service. The FCC has also precluded state authorities from regulating certain aspects of VoIP services in the same way as traditional telephone services. However, the FCC has indicated that states may still impose certain requirements on VoIP providers and may continue to impose applicable sales, use and telephone taxes.
---
Does Nextiva charge customers the Universal Service Fee (USF)?
All phone customers are charged the Universal Service Fee. The rate is regulated by the FCC and changes quarterly. The USF rate for the fourth quarter of 2016 is 17.4%.
---
What if I'm tax exempt?
Please contact our team to set up a tax exempt status. Please note, customers with a tax exempt status are still responsible for service fees, including RRF and USF. If the necessary paperwork is received in our office indicating you are tax exempt, you will not be required to pay sales or excise tax and can request a refund back to the start of services where applicable.
---
What is E911? What is the E911 fee?
E911, or "Enhanced 911", is a fee charged to every VoIP line of service and has been a service mandated for VoIP providers since 2005. Dialing 911 from your Nextiva phone will enable emergency services to locate your geographic location base on the information provided within your Nextiva portal. It is crucial that the address and location for each employee's device is up to date at all times.
How do I update my E911 address info?
As an administrator you can access the NextOS portal by clicking HERE.
Log in to the portal with your admin credentials.
From the dashboard, select the tile called Locations – Manage Location (Figure 1-2).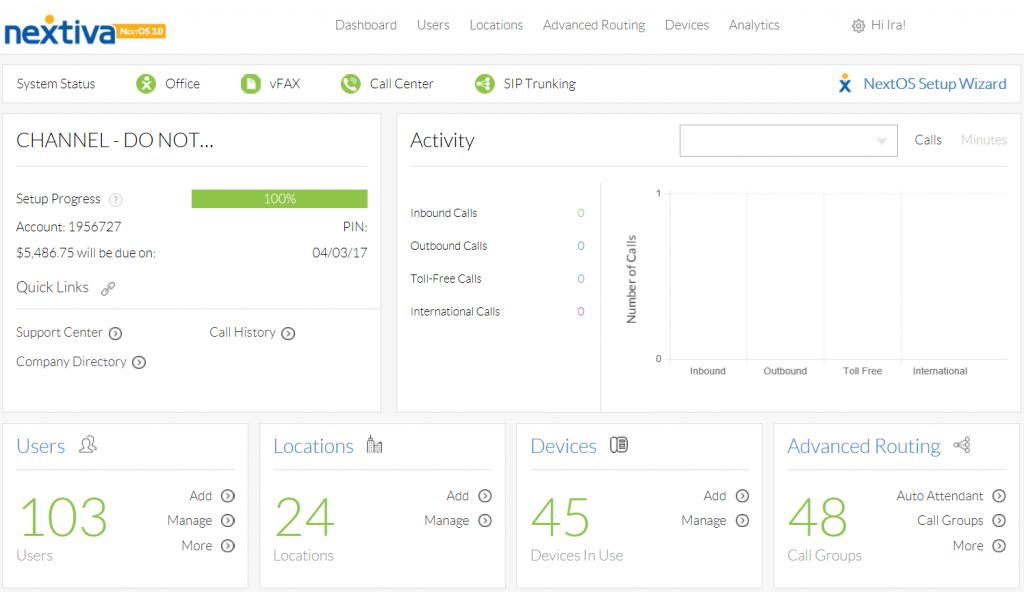 Figure 1-2: Manage Location.
Select the correct location, click the pencil icon on the right to edit. Scroll down to the E911 to change your emergency address by location (Figure 1-3).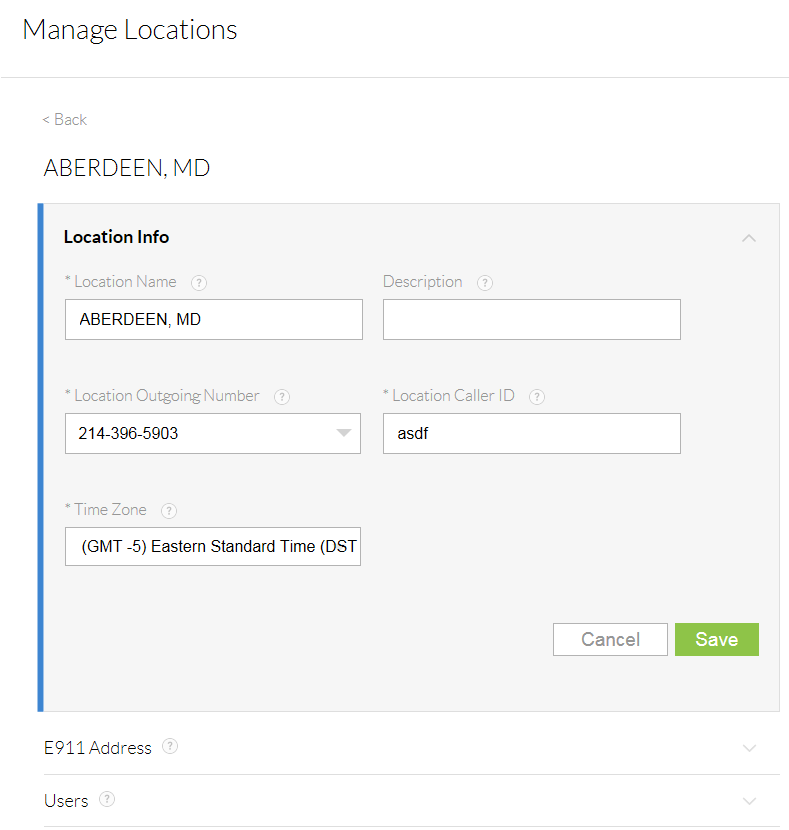 Figure 1-3: E911.
---
Do non-profit organizations pay tax?
Non-profit organizations are not required to pay federal and state taxes with Nextiva once the proper paperwork has been completed. If you're a non-profit organization and have service with Nextiva, please send your W-9 to billing@nextiva.com.
Nextiva's tax ID is 20-8820926.
Please note, customers with a tax exempt status are still responsible for service fees, including RRF and USF.
---
What is my CVV? What does CVV stand for?
The CVV code, or Card Verification Value, is a 3, 4 or 5-digit code found on the front or back of your debit or credit card.
The CVV code is often asked for by merchants for them to secure "card not present" transactions occurring over the Internet, by mail, fax or over the phone. This is an extra security step Nextiva uses when signing up new customers. It is typically a 3-digit number on the back of Visa, MasterCard and Discover cards, and a 4-digit number on the front of American Express cards.