Pictured below are two of the most common network setups. A recommended network setup when you have a gateway provided by your Internet Service Provider (ISP), and a recommended network setup when you instead have a modem connected to a router.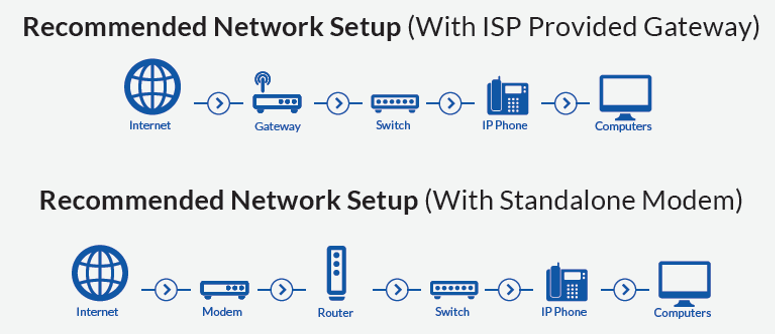 Legend
Network Components
 

Wireless Internet service providers are not recommended to be used with VoIP without complete testing and validation of performance.
Additionally, the bandwidth must support other business network activity such as computer usage, which varies. Each VoIP call typically requires 100 kbps up/down available.
Run this network test (you may need to install/update Java) to test bandwidth, jitter, packet loss, and relative response time RRT a.k.a. ping time.
Test factors and expected values: RTT/RRT (Ping): Less than 150/ms Jitter: Less than 20ms Packet Loss: 0%

A modem is required with cable or DSL Internet connections.
If you have a modem/router combination device, the best configuration is with it bridged to a stand-alone modem.
Some providers refer to this as IP-Passthrough.

Verify that you do not have two routers in sequence (i.e. double-NAT) before connecting your phones.
Become familiar with our networking guidelines: http://www.nextiva.com/support/nextiva-networking-guidelines.html
Quality of Service (QoS) settings are recommended to prioritize voice bandwidth over computers and other network traffic.
Not all routers support QoS functionality. Please contact Nextiva if you need to purchase a QoS-capable router.
Most enterprise-grade routers are supported with the latest firmware installed

If your switch is Power over Ethernet (PoE) capable, your phones must also be PoE capable. If not, the phones will need to be connected via power cord.
If you have a Gigabit network, and you have one Ethernet port per work station, you will need to connect your computer(s) through your phone(s).
Verify that you have Gigabit capable phones so that your computers will have Gigabit connectivity.
Refer to your switch documentation for configuration instructions.

When connecting your phones to the network, ensure that you are connecting the Ethernet cable to the LAN or S/W Port, and not the PC port.
If the phone is not obtaining an IP address, check to see that the Ethernet cables are securely connected. If that does not work, verify that the network is configured to automatically assign an IP address (DHCP). If it is not configured for DHCP, you will need to assign a static IP to the phone.
Phones purchased from Nextiva will auto-download a generic configuration, including an extension number, name, and firmware updates.
Do not reboot the phone if the screen displays a notice that the phone is upgrading firmware.

If each workstation in your business has only one Internet connection, the PC can be connected to the PC port on the back of the phone.
If your phone does not have a PC port, a second Ethernet connection will be required for the PC.

For best results, please use Cat5e or Cat6 Ethernet cables to connect your VoIP equipment to your network.
To consistently achieve the highest quality of service, we recommend that all VoIP equipment is hardwired.
Inspect your cabling to ensure that there are no signs of damage.