An echo is a sound of voices repeating on a call at a later interval. Typically, the party that hears an echo on the phone call is not the party creating the echo. Common symptoms of echoing on the line include:
Callers hear their voice through the device
Delay on a call
Parties talking over each other
Echoing on the line can be caused by the caller's voice going through the recipient's speaker and coming back through the microphone. Turn down the microphone volume and retest for echoing on the line.
If using a headset, test for echoing on the line with a handset. If there is no echoing with the handset, replace the headset. Some headsets have settings to adjust or prevent echo on the line.
Next, verify the integrity of the local network. VoIP devices require an upload and download speed of 0.1 Mbps each. Computers and connected devices such as wirelessly connected cellular phones, printers, etc. need an upload and download speed of 0.3 Mbps each. Jitter must be less than 15 – 20 ms, and packet loss must be 0%. To run the Nextiva Network Quality Speed Test, click here. Compare the results with the chart below.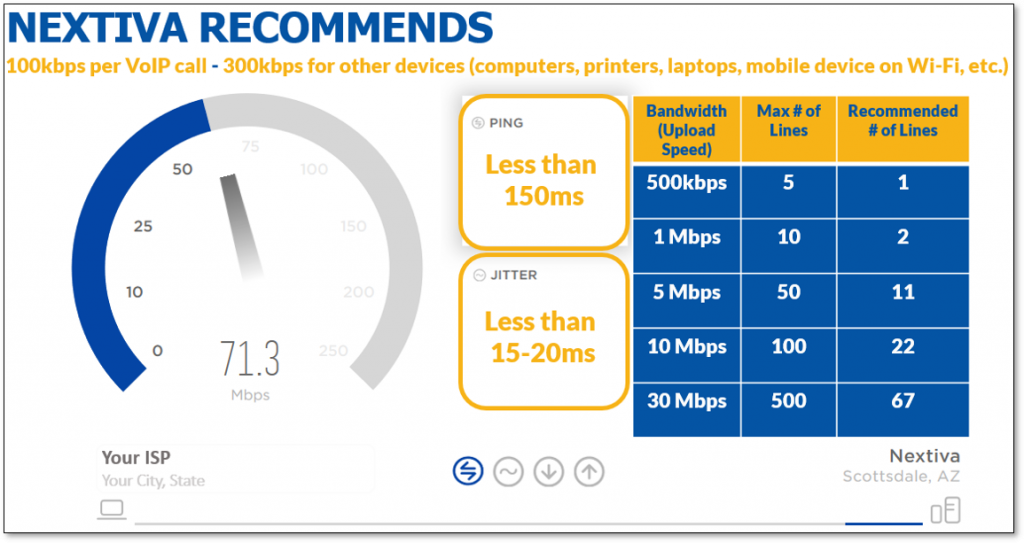 Recommended Network Quality Speed Test Results
Though uncommon, defective or damaged Ethernet cords, power cords, wall jacks, and handset cords can cause echo on the line. Replace each cable and retest, plugging into an alternate Ethernet wall jack. If the issue is not reproducible, replace the faulty cabling or wall jack.
Related Articles: