Dropped calls are inconvenient, and they may drop as a result of an unstable network or improper configuration. Common symptoms of dropped calls include:
Calls drop at the same time, every time
Calls drop at intermittent frequencies
Calls drop during times of high Internet usage
Calls drop and reconnect
Calls always drop around 10 – 11 minutes into the call
To begin troubleshooting dropped calls, verify the integrity of the local network. VoIP devices require an upload and download speed of 0.1 Mbps each. Computers and connected devices such as wirelessly connected cellular phones, printers, etc. need an upload and download speed of 0.3 Mbps each. Jitter must be less than 15 – 20 ms, and packet loss must be 0%. To run the Nextiva Network Quality Speed Test, click here. Compare the results with the chart below.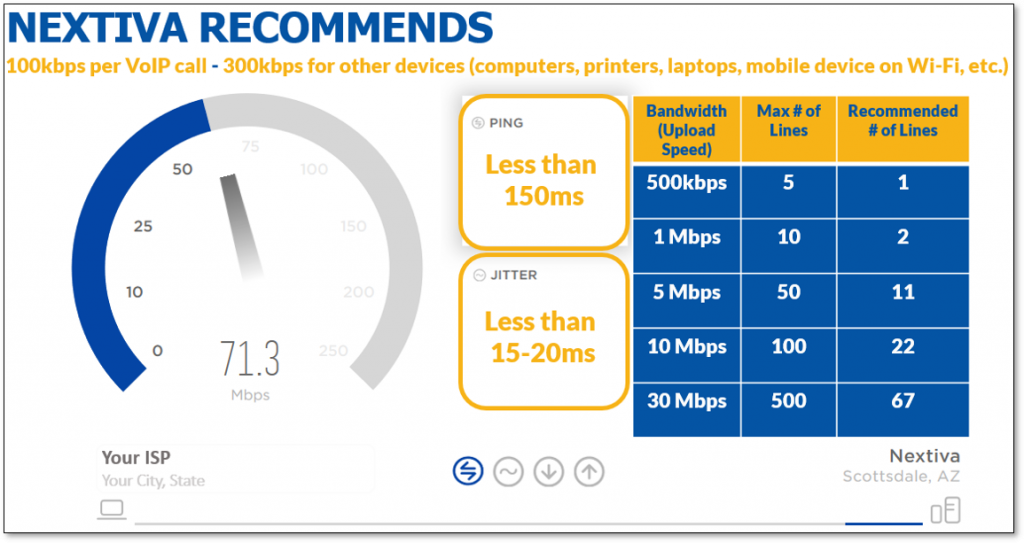 Recommended Network Quality Speed Test Results
For more information on packet loss, click here.
Firewall Access Rules control the flow of inbound and outbound Internet traffic from the local network to the public Internet. Without the proper configuration, VoIP data does not reach its destination causing dropped calls. Routers and firewalls use access rules to control traffic on the local network.
Nextiva recommends that a local Network Administrator whitelist the following rules in the firewall:


Nextiva's Firewall Access Rules
Routers and gateways are responsible for controlling traffic from the public Internet to each device on its local network. By assigning each device a private IP address and performing Network Address Translation (NAT), the router or gateway knows how to route the right data to the right device.
When more than one device on the network is performing NAT (also known as Double NAT), VoIP traffic does not reach its intended destination. By being assigned a private IP by the primary router, then being assigned another private IP by a secondary router, VoIP traffic misdirects, causing dropped calls.
Double NAT is not recommended for VoIP, because only one piece of network equipment should be performing NAT. For more information on Double NAT, click here.
Related Articles: