Improving call center performance extends beyond quantitative improvements such as making or answering more calls, closing more sales, and resolving more support issues. Companies must also consider qualitative improvements that make a positive impact on customer experience. Enhancing customer interactions with the company is an effective way to improve customer experience and secure repeat customers.
For example, a company wants to improve the customer service skills of their support agents to increase customer satisfaction. They can do this by recording the calls for quality assurance. Then can then evaluate the recorded calls to identify coaching opportunities.
Nextiva Call Recording used in conjunction with Nextiva Voice Analytics allows businesses to capture and store calls, then review and evaluate them with call recording surveys so they can analyze the data to gain insight for implementing change.
Use Nextiva Voice Analytics to review and evaluate call recordings.
Visit nextiva.com, and click Client Login to log in.
If logging in from Nextiva Voice (purchased before Dec 2020), select Voice > Analytics.
If logging in from NextOS (purchased after Dec 2020), select Communication > Phone System > Voice Overview > Go to Analytics.
On the Nextiva Voice Analytics Home Page, click the Analyze tile or select Analytics in the top menu bar.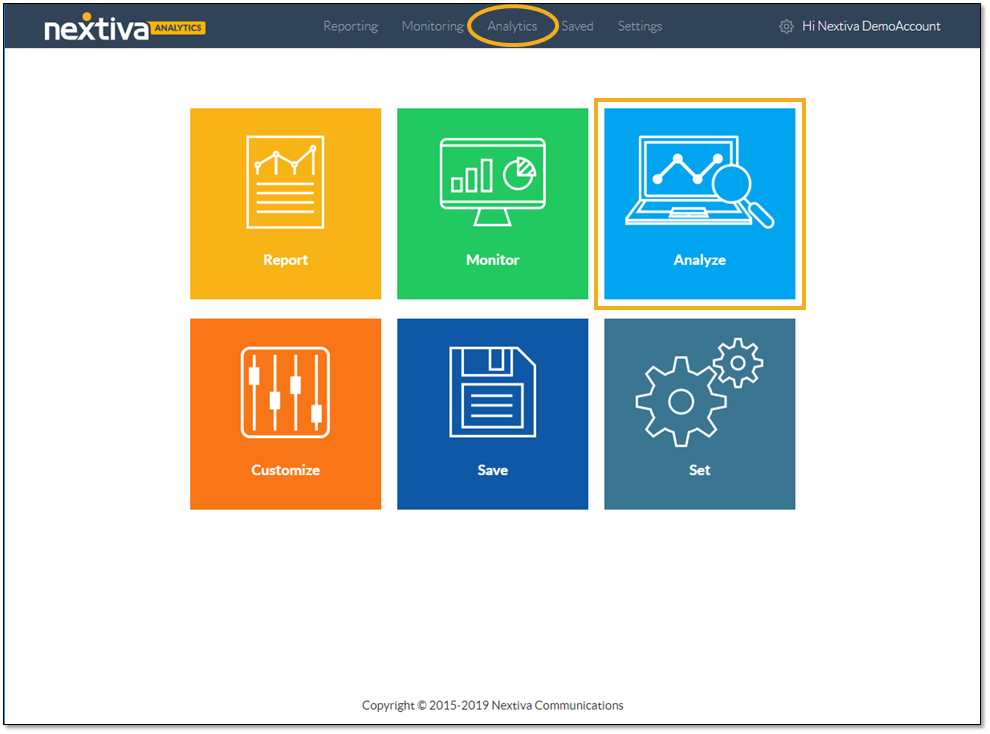 On the User Activity tab, specify the desired time range.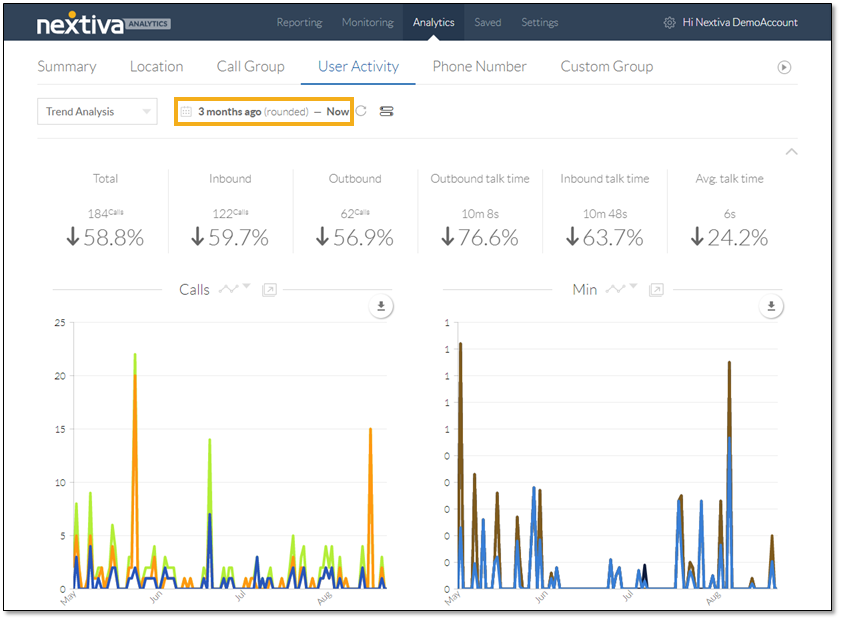 Click the Slider icon to open the configurator, then on the Filter tab select the desired user(s).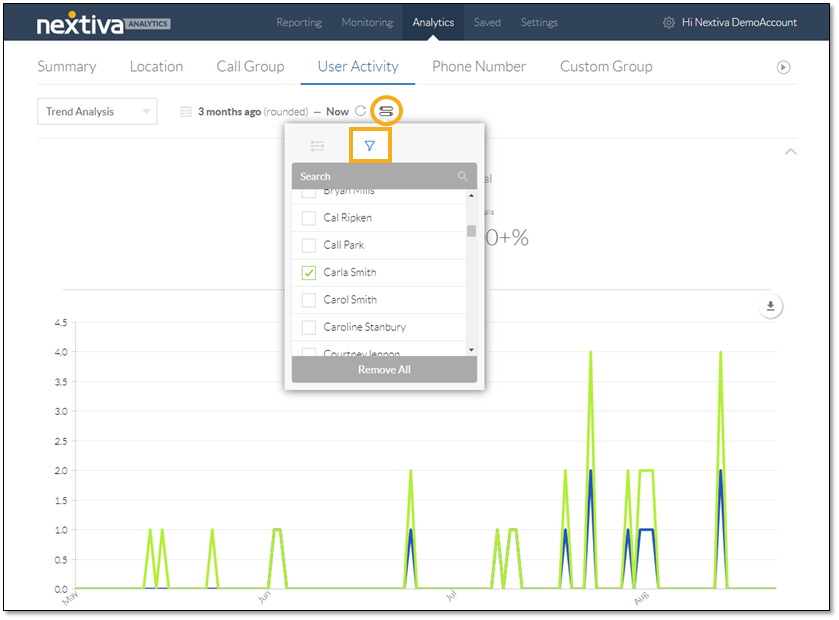 Scroll below the chart and click Call Log.
Navigate to the desired call and click the Speaker icon.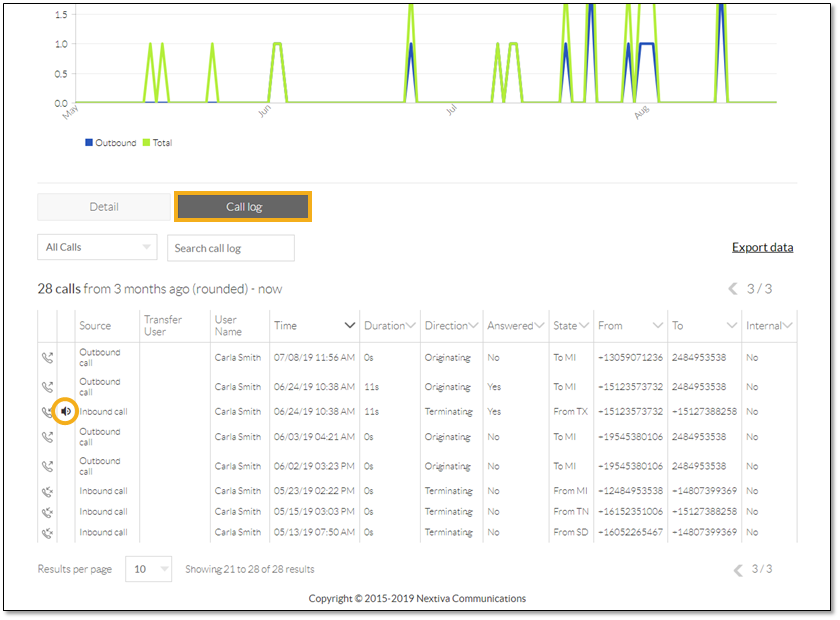 Evaluators can perform the following actions on a call recording:
Play the recording
Add notes
Rate the recording
Send the recording (whole or clip) and notes by email
While assessing a call, evaluators can play the recording in its entirety (A) as well as select (click-and-drag) a specific clip of the recording (B) to play.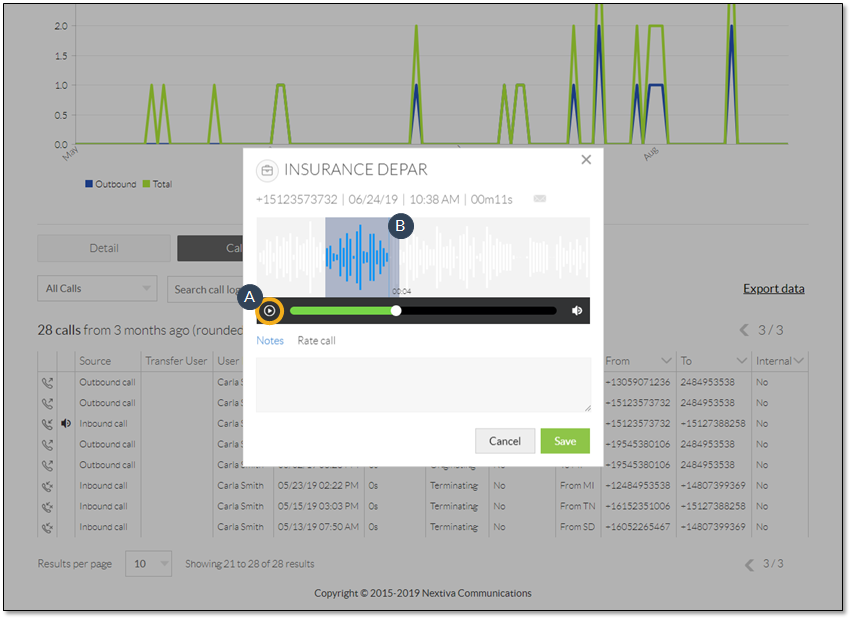 Managers may want to annotate calls to include a description or highlight something about the call. For example, they can tag a particular call that contains a fantastic approach to closing a sale. To add a note:
Click Notes.
Enter text in the box.
Click Save.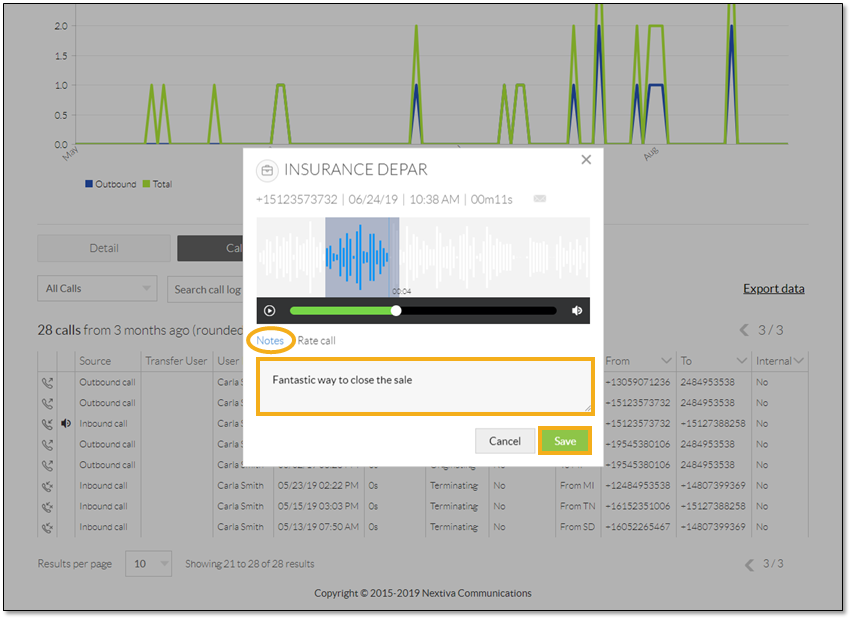 Nextiva Voice Analytics also offers a call rating feature that helps managers assess calls based on the criteria that are most important to the business. They can create custom question groups, or call recording surveys, to rate each recorded call. For information on creating question groups, click here. To rate a call:
Click Rate Call.
Select a question group from the drop-down list.
Complete the survey and click Save.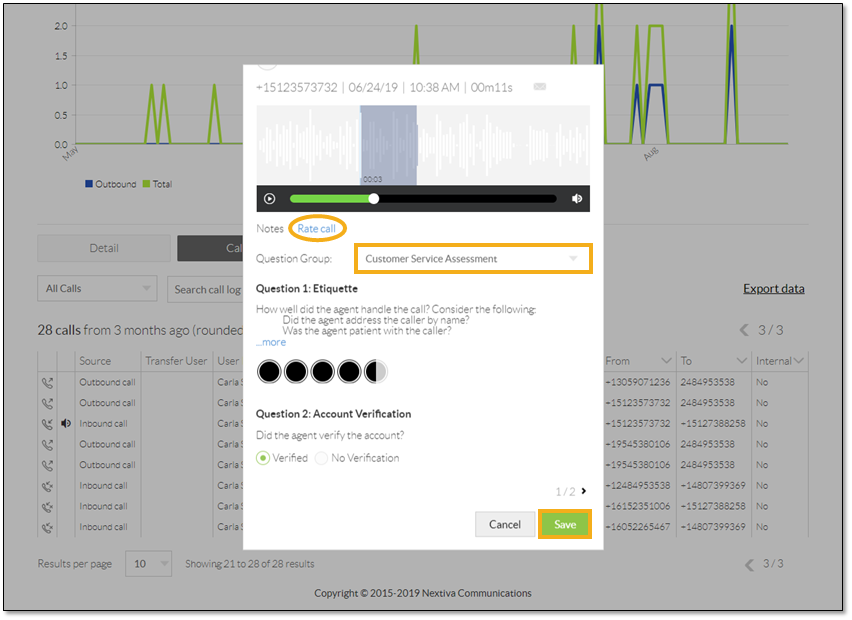 Managers can share call recordings directly from Nextiva Voice Analytics. 
Click the Envelope icon.
Enter the recipient's email address.
Click Send.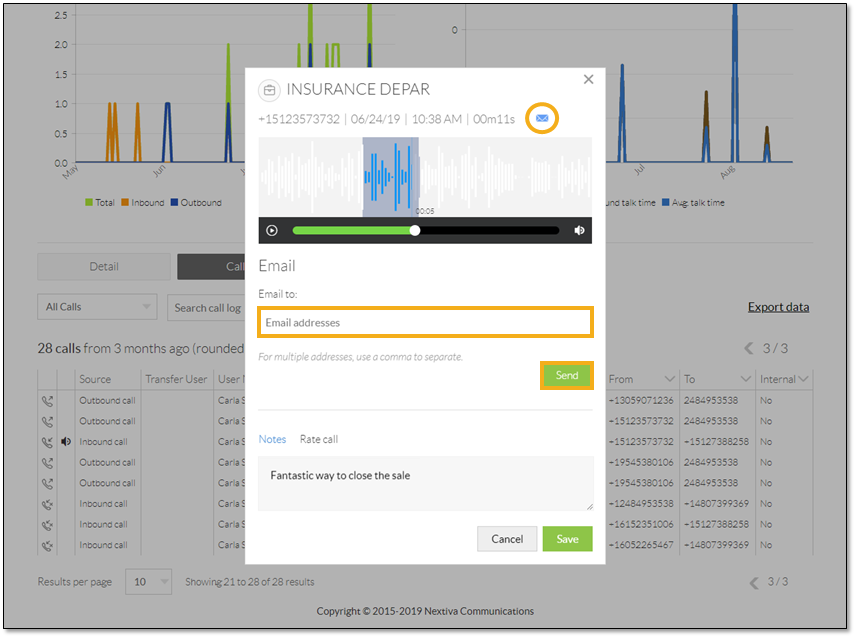 The recipient will receive an email with the call recording (.mp3 file) attached, sent from analytics@nextiva.com.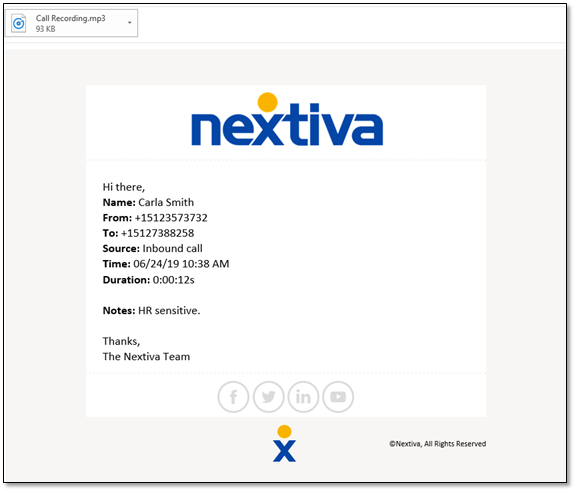 After collecting data from listening to call recordings and reviewing the notes and evaluation results, managers can identify areas for improvement and provide coaching for their employees. They can also share exceptional recordings to recognize employees who masterfully execute a call and to showcase them as examples for other employees to follow.
With Nextiva Call Recording and Nextiva Voice Analytics, companies can easily monitor and evaluate employee interactions with customers to find opportunities to improve the customer experience and thus increase customer loyalty.
Related Articles: