Call Recording allows you to record your incoming and outgoing calls for review and training purposes. These files are archived for up to six months and are easily accessed and downloaded using the Nextiva Call Recording application. Please be aware of the call recording laws in your area.
NOTE: Before enabling Call Recording for a User, a Call Recording license or a bundled license with Call Recording included will need to be assigned to the User. Please see the article titled Assigning Licenses to a User.
For Administrators, log in to the Nextiva Voice Portal by visiting

www.nextiva.com

and clicking on Login found at the top of the page. Alternatively,

click here

.
Log in with your login credentials.
From the main dashboard, hover your cursor over Users and select Manage Users (Figure 1-1).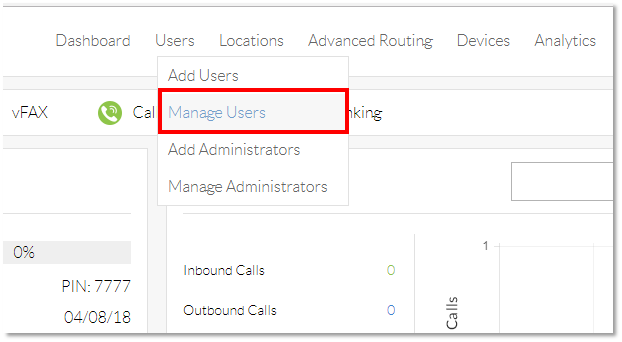 Figure 1-1: Manage Users
Hover your cursor over the user for whom you want to set up Call Recording, and click the pencil icon to the right

(Figure 1-2)

.


Figure 1-2: Edit User

Scroll down and select the Monitoring section

(Figure 1-3)

.


Figure 1-3: Monitoring Section

Click the pencil icon to the right of Call Recording to enter the configuration menu

(Figure 1-4)

.


Figure 1-4: Edit Call Recording

Enter the required information as indicated below

(Figure 1-5)

:

Never: results in the user's calls never being recorded.
Always: results in all of the user's calls being recorded at all times.
Always with Pause/Resume: allows the user to start and stop the recording during a call using feature access codes.
On Demand: automatically records every call, but also automatically discards every recording if the feature access code to keep the recording is not entered.
On Demand with User Initiated Start allows the user to control when the recording starts using feature access codes.


Figure 1-5: Select a Call Recording Frequency
Play recording start.stop announcement: this setting controls whether the end user hears a message when the user starts or stops call recording.

(Figure 1-6)

Record voice messaging: this setting controls whether voice messages left on the user's voicemail box are recorded.


Figure 1-6: Additional settings

Pause/resume notification: this setting controls the type of notification the end user hears when the user pauses or resumes call recording. The options are

(Figure 1-7)

:

None
Beep
Play announcement

Repeat record call warning tone every _ seconds: this setting controls whether and how often a warning tone is played if the call is being recorded.
Figure 1-7: Pause/Resume Notification Settings
Click the green Save button at the bottom of the pop-up window. A pop-up message appears stating that the call recording settings for the user have been saved successfully

(Figure 1-8)

.


Figure 1-8: Confirmation Message
After enabling Call recording for a User, additional steps will need to be taken by Nextiva Support to make sure that an Administrator, a Supervisor, or the Agent themselves can access recorded calls. Please contact Nextiva Support for further assistance at 800.285.7995.