Please read Call Center Routing Overview before reading this article to ensure your Call Center Routing is set up correctly.
Night Service allows for alternative routing after-hours. This feature is OFF by default and is only available for Premium Call Center licenses.
Night Service can be beneficial for special handling circumstances after hours. For example, a Health and Wellness Clinic can have an after-hours answering service for emergencies, or an apartment complex can have a nighttime on-call Maintenance Professional in case of emergencies.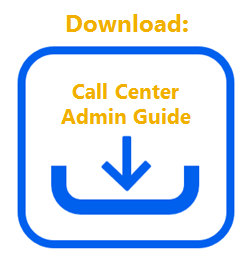 To Adjust Night Service Settings: 
Visit 

www.nextiva.com

, and click Client Login to log in to NextOS.
From the NextOS home page, select Voice.
From the Nextiva Voice Admin Dashboard, hover over Advanced Routing and select Call Center Locations.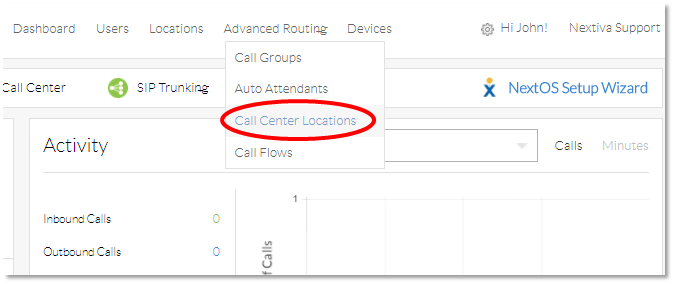 Call Center Locations
Once in Call Center Locations, click the Log In button to navigate to the Configuration Portal.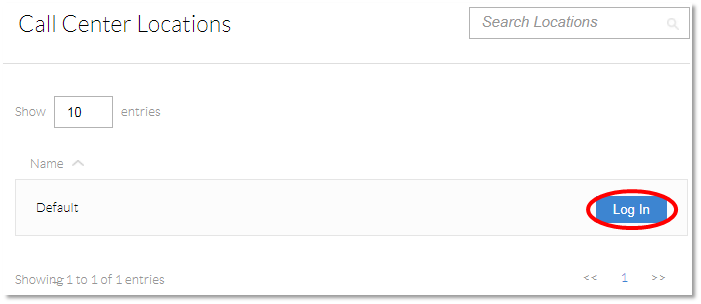 Log In to Call Center
Once the Configuration Portal launches in a new tab for convenience, select Call Center on the left Navigation Pane, then select Call Centers.

Entering Call Centers
If you have more than one Call Center, you will see a list of Call Centers on the next page. Find the Call Center that you want to configure and click on Edit at the end of the row, or on the Call Center name directly.

Selecting a Call Center
On the Call Center Profile screen, on the left under Options, click Routing Policies, then click Night Service.

Night Service Selection
The configurable Night Service settings include: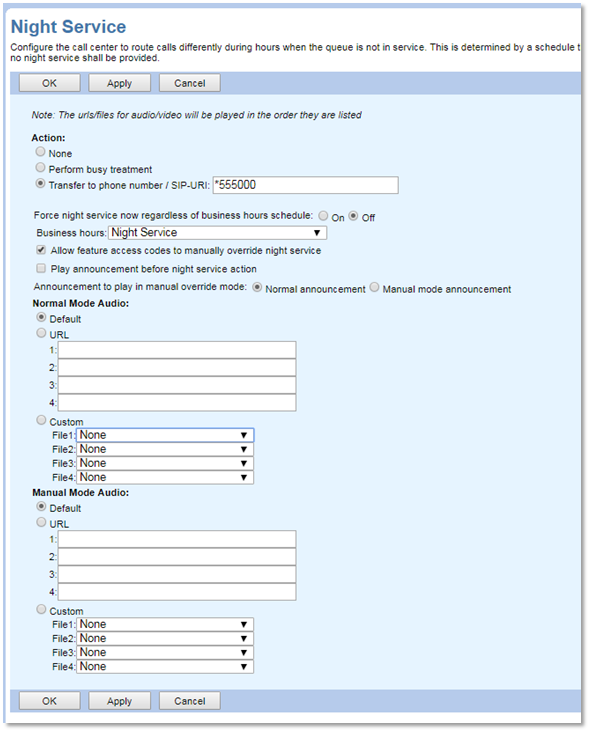 Night Service Configuration
None: Turns off Night Service.
Perform busy treatment: Performs standard busy treatment for Night Service calls after the Night Service schedule is triggered.
Transfer to phone number / SIP-URI: Transfers Night Service calls to a specified extension or phone number after Night Service is triggered.
Force night service now regardless of business hours schedule: Manually enables Night Service now, regardless of the schedule selected. Beneficial to ensure proper routing after Night Service has been configured.
Business hours: Specifies the hours the Call Center is active. Any time outside of these hours will perform Night Service Routing. For information on setting up schedules,

click here

.  
Play announcement before night service action: Can play a default or custom message to let the caller know what to expect during Night Service.
Announcement to play in manual override mode: When Night Service is manually triggered, a default or custom message will play.
Audio: Plays the Default Nextiva announcement, plays an audio file located online, or you can select a custom greeting. Announcements are chained and play back to the caller one after another. The two sections detail Normal Mode Audio (for a set schedule), and Manual Mode Audio to play a different message if Night Service is triggered manually. For information on uploading announcements,

click here

.
Click OK or Apply to save any changes. This will take you back to the previous page.
To contact our support team please email us at support@nextiva.com, Submit a Ticket, or give us call at 800.285.7995.