Nextiva Link is a flexible forwarding service packed with features such as Auto Attendants, unlimited extensions, professional voicemail service, and multiple forwarding options. Nextiva Link grows with your business needs, and ensures your callers won't know whether you're in the office, working remotely, or traveling frequently.
---
What are my forwarding options?
The Auto Attendant can forward calls to you after callers select an option (see below).
Or, you can set up forwarding from an individual employee's extension/direct dial number to an external number. For instructions, click here.
---
How do I forward calls from my Auto Attendant?
As an Office Manager, click here to access your administrator portal.
Log in to the portal with your admin credentials.
On the next screen select Sites, then select Auto attendant.
Here you can configure or edit your Auto Attendant, as well as apply a greeting, and set up the menu options. 
First, set an extension for your Auto Attendant, and pick a number from the Available Numbers and move it to Assigned Numbers.  
NOTE: This step is only required if your calls route to an Auto Attendant before forwarding to extensions. If your main number rings to an extension first instead, you can skip this step.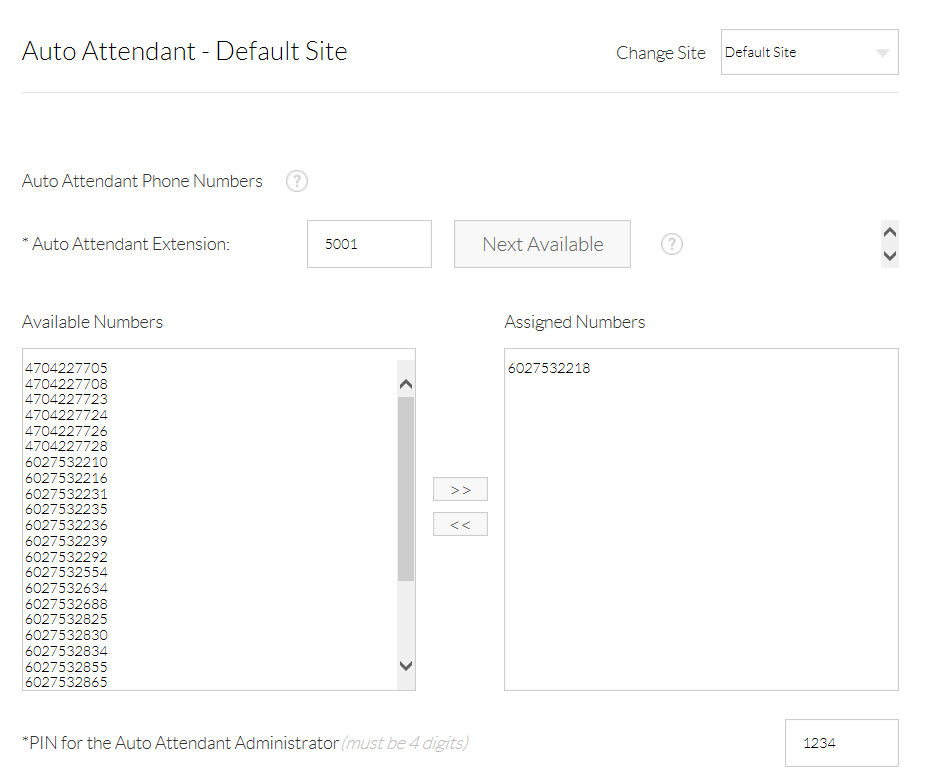 Next, decide if you'd like to set up an after hours menu for closed times or holidays.  
Below the scheduler you'll find the greeting section. Here you can choose Select File to update.   

Next you'll set up the menu options. Here, you will see Auto Attendant key options 1-9, as well as *, # and No Response.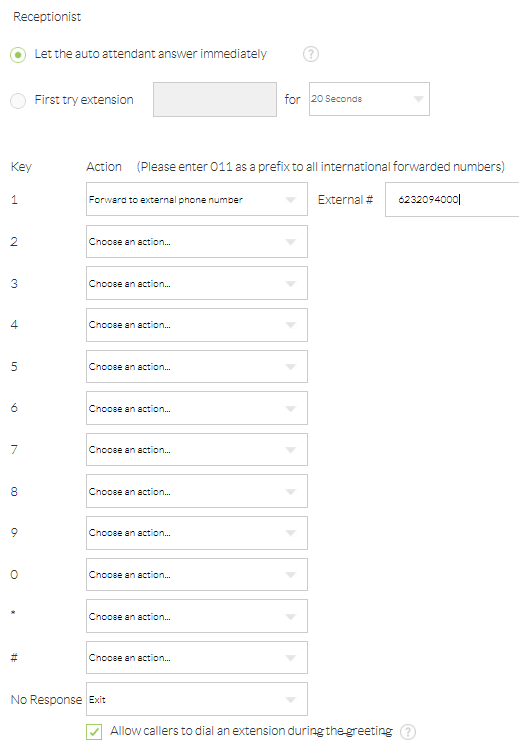 You can see all of your menu options in the drop-down menu next to each key option. To simply forward calls, choose Forward to an external number, and then fill in the forward-to number to the right of the desired key option.
Example: Type in a 1 plus the entire 10-digit forward-to number (6232094000) in the box to the right of option 1. Now, callers who press 1 will be re-directed to 6232094000.   
Fill in as many key options as you like. Make sure you upload or record a greeting to match the key options chosen. When you're done, be sure to select Save Changes at the bottom of the page and make a quick test call.