Nextiva Link is a flexible forwarding service packed with features such as Auto Attendants, unlimited extensions, professional voicemail service, and multiple forwarding options. Completely scalable, Nextiva Link grows with your business needs, and ensures your callers won't know whether you're in the office, working remotely, or traveling frequently.
If you have previously set up an Auto Attendant, you'll need to upload a greeting file to play when callers reach you.
If you have your own recording(s) completed, Nextiva Support is happy to upload them to your Nextiva Link account at no cost. Send the file to Support, or upload the greeting yourself via the Office Manager portal.
If you'd like to set this up yourself, please convert your recorded file to the following format:
PCMU or u-law
.wav
8 or 16 Bit
8000 HZ
Mono
Under 5 minutes.
This is the only file format accepted by Nextiva. You are able to locate free file converters on the internet, or we can convert the file for you and send it back in the accepted format. If you would like us to upload the greeting for you, send the file to Support. We will convert the file and send it back to you within 24 to 48 hours. If you include account information and your Security PIN, we're happy to upload the file for you, too.
---
How do I upload greetings myself?
As an Office Manager, click here to access your administrator portal.
Log in to the portal with your admin credentials.
From the main dashboard, click Sites.
Click Auto attendant.
Scroll down and click the Menu > Greeting section. Here you can click Select File to upload a customized greeting your callers will hear.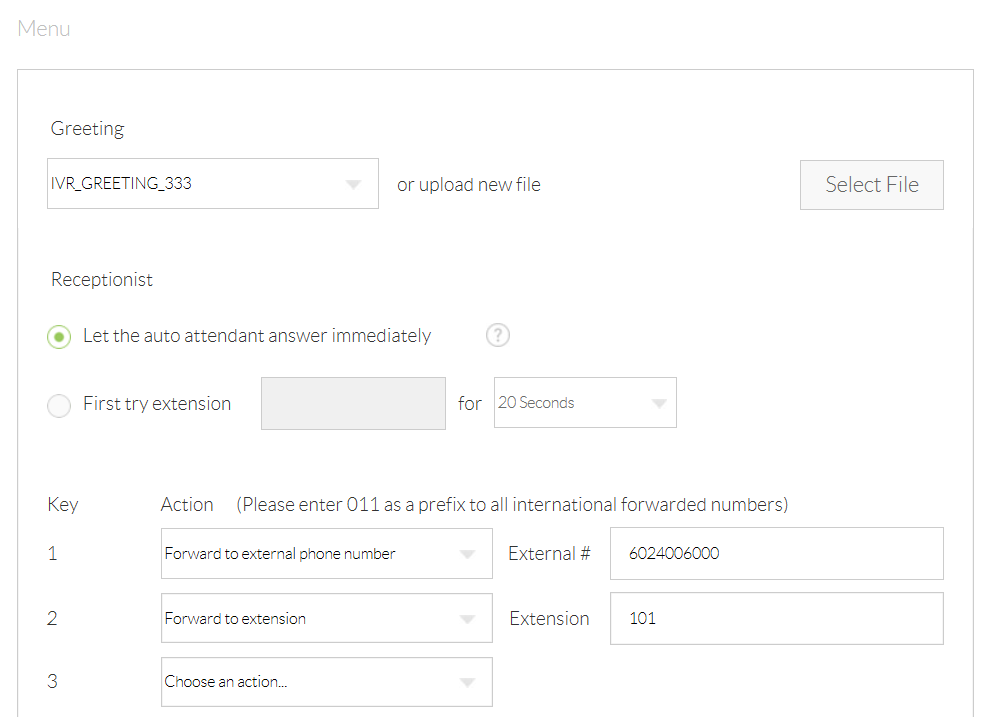 Auto Attendant Greeting
Once you find and highlight the correct file on your computer, click Open and the file will appear in the field next to the Browse button. Scroll down and hit Save Changes and your file will be uploaded. The recording must be in the proper format for it to upload correctly.