What can companies do to help employees who underperform? Increasing the performance of these employees would optimize business.
For example, an automotive company employs customer service representatives to provide post-sales services such as maintenance scheduling and reminders. The company identifies a representative who does not take or make as many calls as the other representatives.
Companies can use Nextiva Voice Analytics to compare the metrics of a high-performing employee with those of a low-performing employee. They can then set the metrics of the high-performing employee as the goals for the underperforming employee to achieve.
Visit nextiva.com, and click Client Login to log in.
If logging in from Nextiva Voice (purchased before Dec 2020), select Voice > Analytics.
If logging in from NextOS (purchased after Dec 2020), select Communication > Phone System > Voice Overview > Go to Analytics.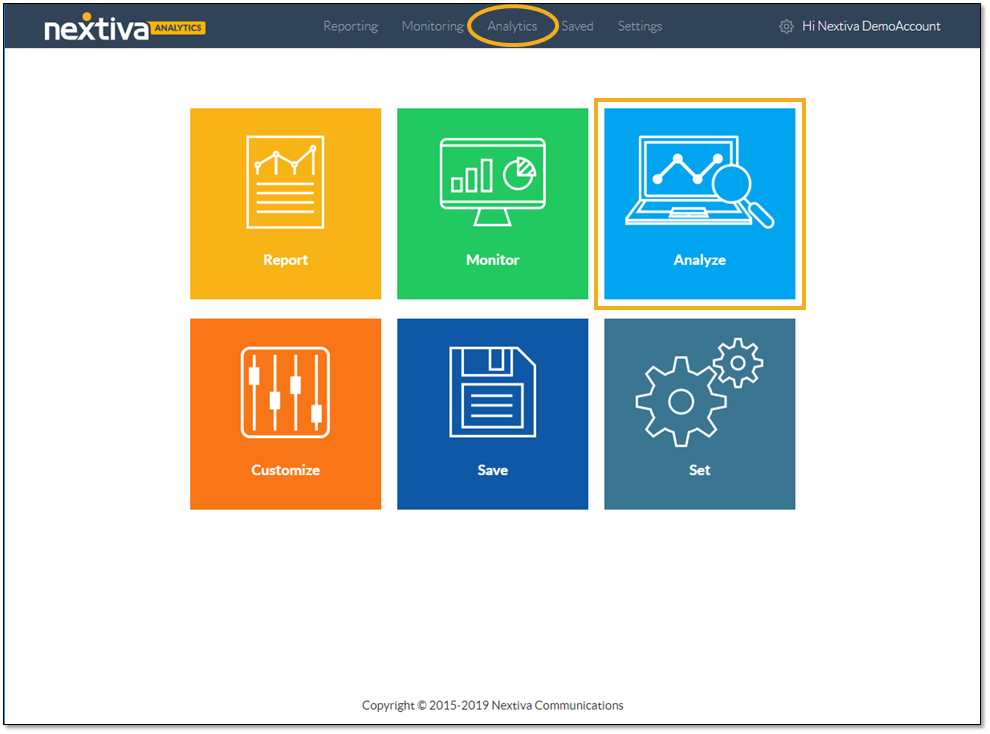 On the User Activity tab, select Comparison from the drop-down list.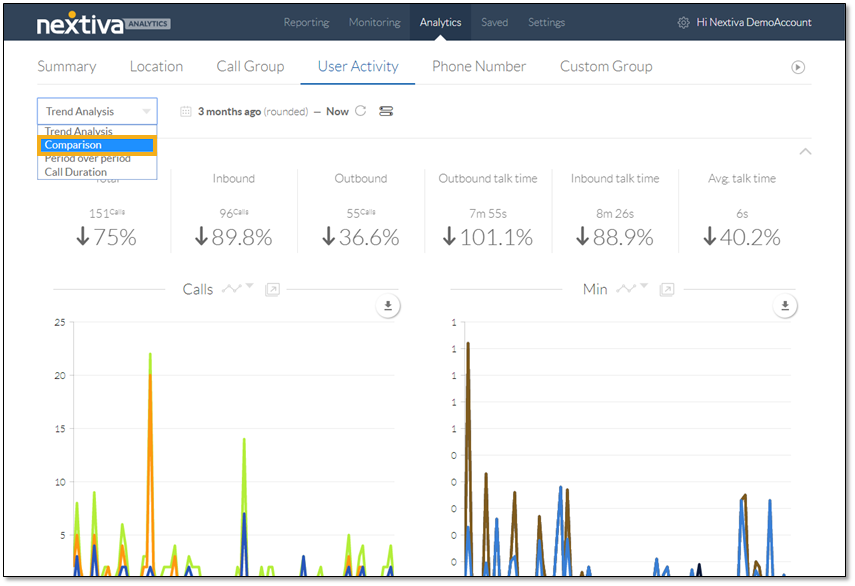 Apply comparison filters to the analytics dashboard.
Select a high-performing employee and the low-performing employee from the drop-down lists.
Specify the desired time range.
Click to turn real-time data ON (blue) or OFF (gray).
Click the Slider icon to select the data to display on the dashboard.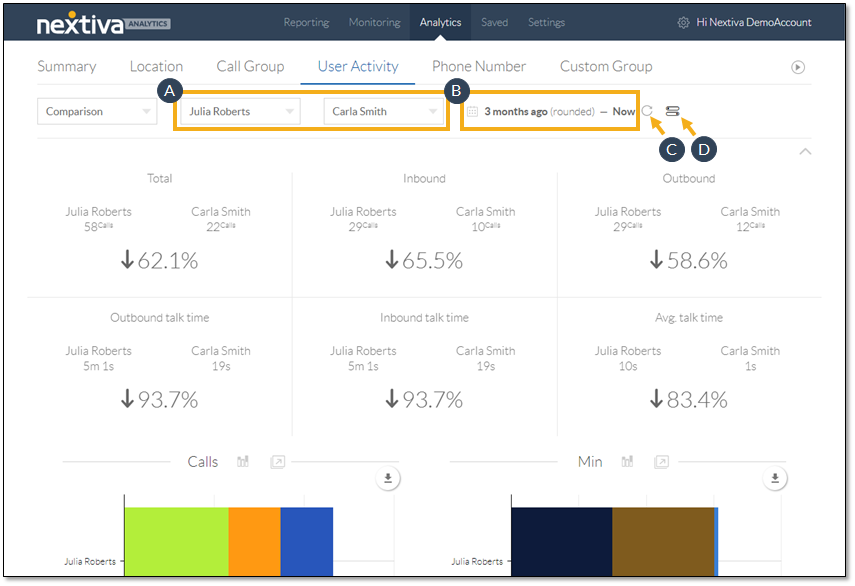 With the desired filters in place, the customized dashboard displays the user metrics with the selected data, as well as the corresponding charts for calls and minutes.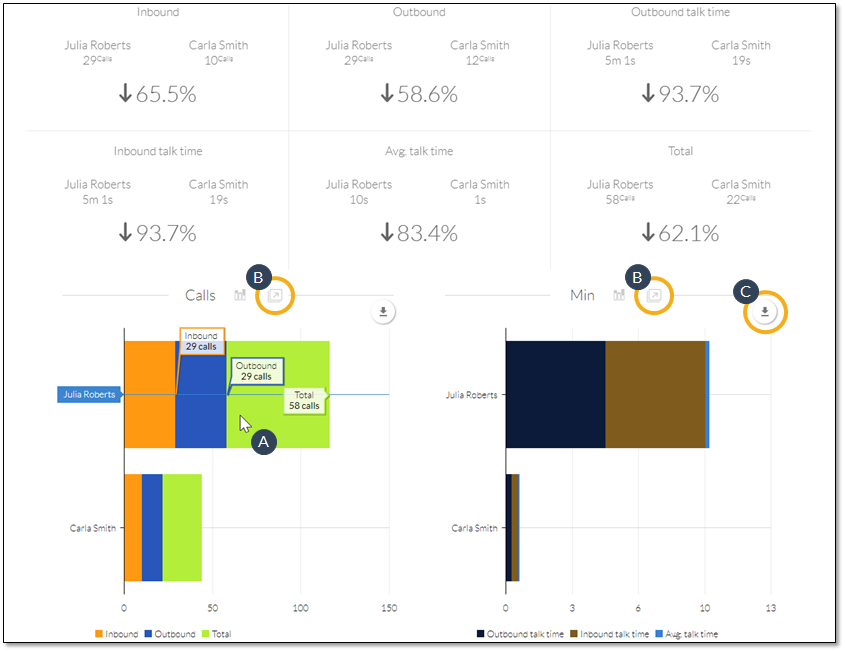 Hover over the chart elements to view details.
Click to pop out the chart to view it in a separate tab or window.
Click to download the chart as a .pdf file.
Click on any metric tile to display the data in the chart that appears below the metric tiles. Click the same metric tile to restore the dashboard view.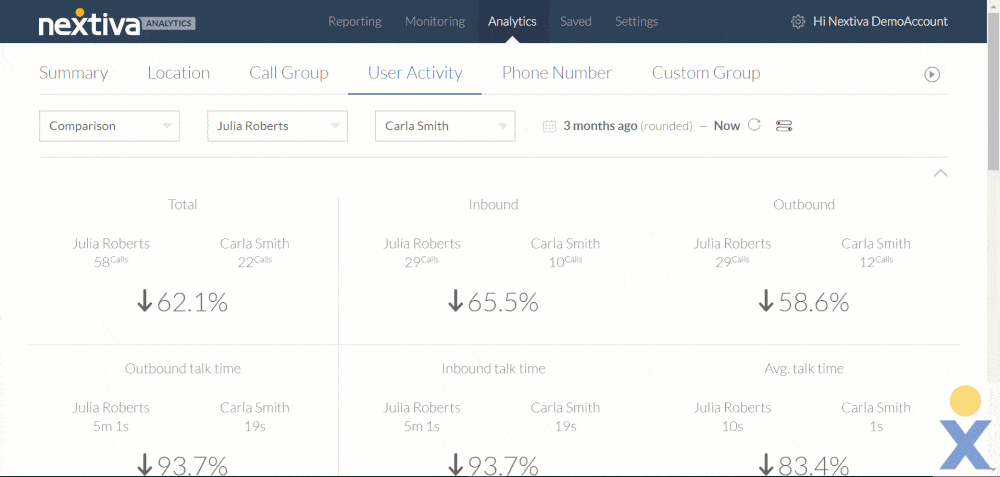 Scroll down further to view the table of call type details for the selected users.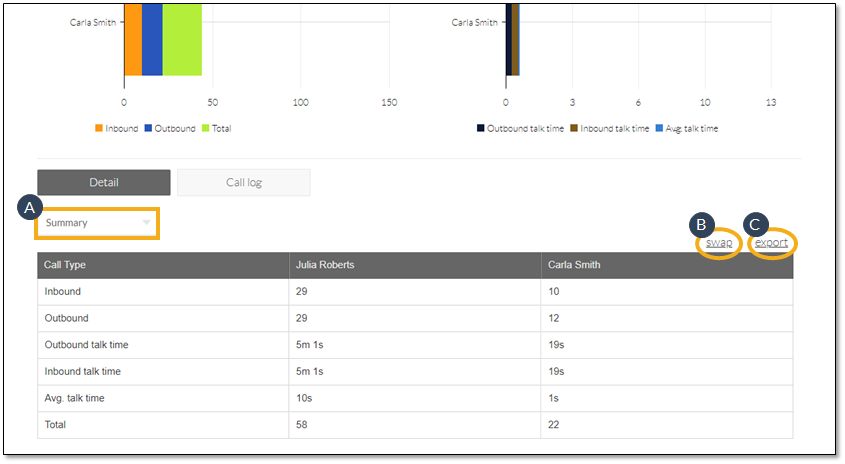 From the drop-down list, select the desired breakdown (Summary, Daily, Weekly, Monthly, Quarterly).
Click Swap to toggle between two table views.
Click Export to download the data as a .csv file.
Click Call Log to view the call log for the selected users.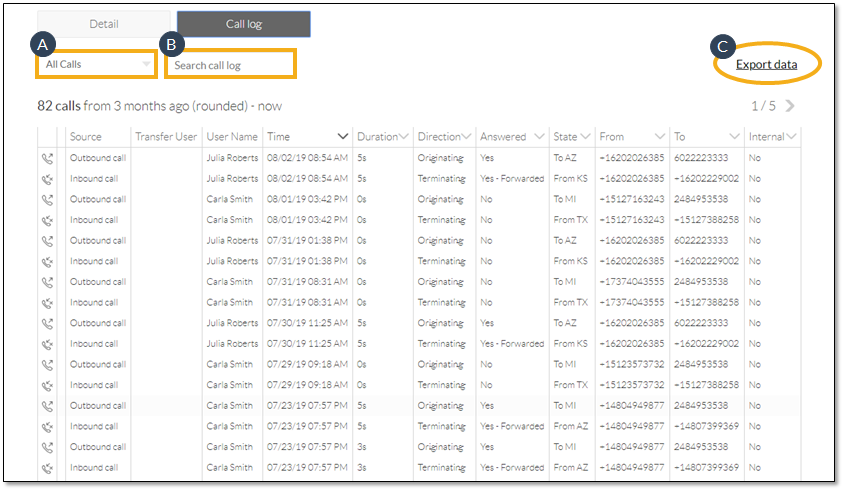 Use the drop-down list to filter the call types (All Calls, Inbound, Outbound, Answered, Missed, and Internal).
Enter a keyword (case sensitive) and press Enter to search the call log (e.g. user, state). 
Click Export data, then enter a valid email address (limit one) and click Send. An email with a link to the call log (.csv file), sent from analytics@nextiva.com, will arrive in the inbox of the provided email address.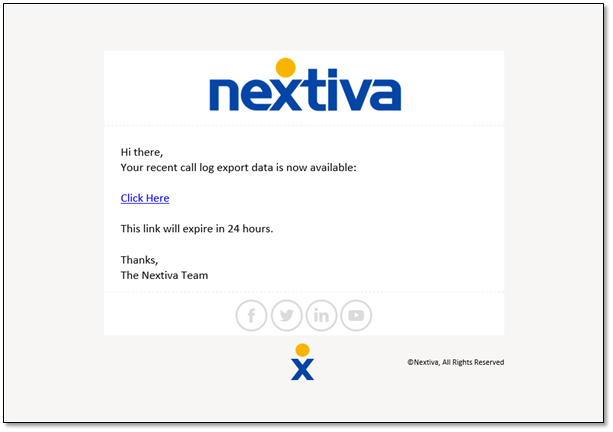 Using Nextiva Voice Analytics, companies can set realistic goals to boost individual performance.
Related Articles: