A Common Phone List allows you to store frequently called numbers in the cloud so they can be dialed from the phone system. By uploading a CSV file, you are able to add numbers quickly to the phone list. Before uploading a Common Phone List, please contact our Amazing Support Team at 800.285.7995 and let us know to make the needed changes on the account.
Preparing the CSV File:
Before attempting to upload a common phone list, make sure the list is properly formatted. The file should be a CSV file, and the entries should be in the format below. You cannot upload more than 500 contacts at a time, and each column of the CSV file cannot exceed 50 characters. There is a total limit of 10,000 contacts that can be uploaded.
NOTE: Not all phones are capable of retrieving a Common Phone List.
Example: "Name, Phone number"
"Jane B Doe","301-555-1231″
"Jane M Doe","301-555-1232″
"Jane W Doe","301-555-1233″
"John B Doe","301-555-1234″
"John D Doe","301-555-1235″
Uploading the Common Phone List CSV File: 
Visit 

www.nextiva.com

, and click Client Login to log in to NextOS.
From the NextOS home page, select Voice.
From the Nextiva Voice Admin Dashboard, hover over Advanced Routing, then select Call Center Locations.


Call Center Locations
Click the blue Log In button to the right of the Location the Call Center is associated with.


Configuration Portal Login
The Configuration Portal launches in a new tab. You will be at the Group level. Select Utilities from the menu on the left side.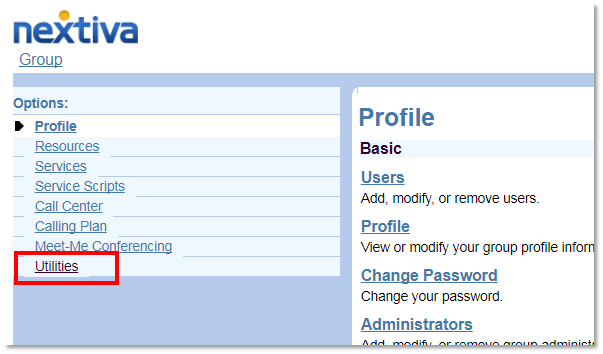 Utilities Selection
Click Common Phone List at the top of the Utilities screen.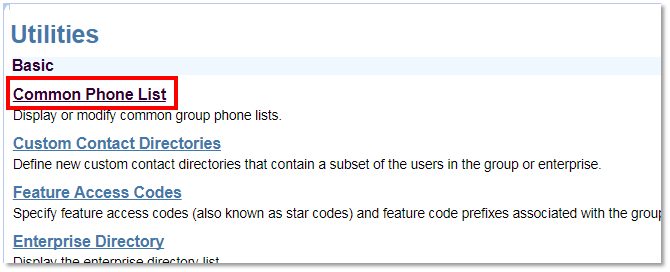 Common Phone List Selection
Click the link Import Phone List at the top of the page. To locate your file, click the Choose File button in the middle of the page.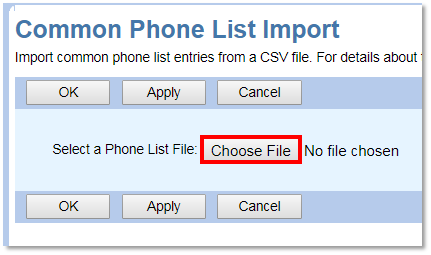 Choose File Button
Locate the file on your local computer and select the file. 
Click OK to upload the list.
To pull down the list to your phone, reboot the phone by temporarily disconnecting the power from the back of the phone. It may take a few minutes after rebooting the phone to pull down the list.
NOTE: If you run into issues uploading your file, or to see if a particular phone model is supported, please contact Nextiva's support department at 800-285-7995 or email support@nextiva.com.