Call Recording files are archived for up to six months and are easily accessed or downloaded using the Nextiva call recording application. You'll need Administrator-level access to set up this feature. Please be aware of the call recording laws in your area. If you are unable to load the recording app, please read below.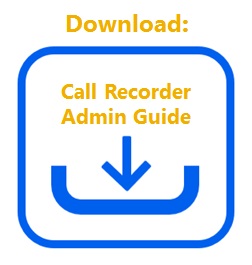 Internet Explorer – The Call Recording App tends to work best in Internet Explorer. For Mac users, you may need to download Mozilla Firefox along with the Internet Explorer plug-in. Once you have received the URL to your call recording portal from Support, open the Call Recording App webpage and make sure the tab is set to Compatibility Mode.
To set Internet Explorer to Compatibility Mode:
Click on the gear icon in the top-right of the browser window.
Select Compatibility View Settings.
Enter recorder.nextiva.com in the "Add this website" field.
Click Add.
Click Close.  
---
Security Warnings – If the website says that the site is not secure. Try to use a different browser. This usually happens when using Google Chrome to launch the Call Recording App.
---
Criteria – Recorded calls are missing. If you are searching and can't find a specific recording, you might be because the correct date and time range were not selected when searching. Also, the system does not allow for live listening – you'll need to wait until the call is completed.
---
Java – Java can block the Call Recording App. In order to fix this issue, you may need to either adjust the Java settings or access another browser altogether. Unfortunately, the latest versions of Java will not allow our Java applets to run at all on the Call Recording App.
To Gain Java Access:
Open Configure Java from the Start menu.
Click on Security.
Click on Edit Site List.
Click Add.
Type in recorder.nextiva.com.
Press Okay.
You will now see the pop-ups prompting to run these Java applets each time the Call Recording page loads.