X-Lite is a free application for computers. The free version of this application does not include the ability to transfer or conference calls. If you want to connect X-Lite to your Nextiva service, follow the steps below:
Once you have installed X-Lite, run the application. Follow the below steps to complete the X-Lite setup process.
Setting Up X-Lite:
Visit

nextiva.com

, and click Client Login to log in to NextOS.
From the NextOS Home Page, select Voice. 
From the Nextiva Voice Admin Dashboard, hover your cursor over Users and select Manage Users.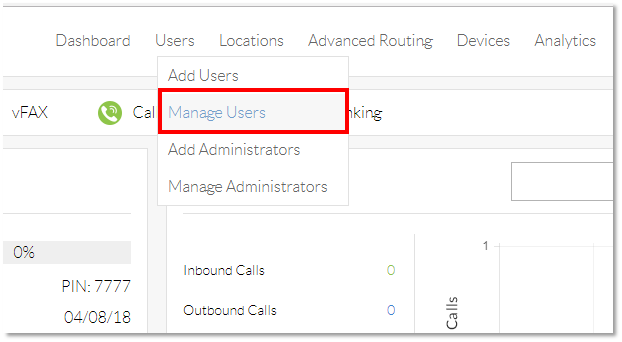 Manage Users
 
Hover your cursor over the user you are assigning X-Lite to, and click the pencil icon that appears to the right of their name. 


Edit User

Scroll down, and click the Device section.
Select the Own Device radio button.
Select Generic SIP Phone from the drop-down menu of the Own Device list.


Device Drop-down

Click the green Generate button under the Authentication Name text box.
Select the Change Password checkbox under the Domain.
Click the green Generate button under the Change Password checkbox. Copy the SIP Username, Domain, Authentication Name, and Password onto a notepad, or document them in some way, as they will be important in setting up the X-LITE. 


Device Details

Click Save & Continue. A pop-up message appears indicating the transaction has been processed. 


Confirmation Popup

Install X-Lite on your computer. Once X-Lite is successfully installed, you will need to complete the setup process in the X-Lite application.

Select Softphone from the drop-down list on the left, and click Account Settings.
Enter the required information under the Account tab. 
X-Lite® Account Tab
Account name: Use a name that will help you identify this account name in the future.

User Details:

User ID: Input the SIP Username from the user that will be using this X-Lite.
Domain: Input prod.voipdnsservers.com
Password: Input the Authentication Password from the user that will be using X-Lite.
Display name: This can be anything. This name will display when calling between Nextiva devices.
Authorization name: Input the Authentication Name for the user that will be using X-Lite.
Leave the Domain Proxy at default.
Click the Topology tab towards the top of the window.
For the Firewall traversal method, choose the None (use local IP address) radio button.
 Click the OK button.