A Conference Bridge is used to connect multiple callers into the same live call. Users can join a conference by dialing into a Conference Number and inputting a Conference ID. Multiple users can use the same Conference Number to set up their personal Conference Bridges.
Please contact Nextiva Support to enable this feature on your account.
When someone dials into the Conference bridge and enters the Conference ID, they will be placed on the conference call.
Setting Up a Conference Bridge:
From the main dashboard, hover your cursor over Users and select Manage Users.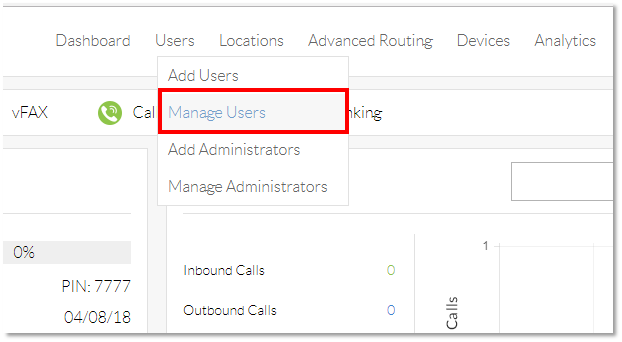 Hover your cursor over the user you want to set up a Conference bridge for, and click the pencil icon to the right.
Scroll down and click the Conferencing section.
Click the green Conference bridge + button to create a Conference bridge for the user.
Enter a descriptive name for the Conference bridge in the Name text box, and select the Conference number you want to associate with this conference bridge in the Conference number drop-down list.
Select the type of notification attendees will receive when someone joins or leaves the conference. The options are:

Play Tone: This will play a tone when an attendee joins or leaves the conference. In the example below, this option is selected
Play Recorded Name: This requires an attendee to record their name, which is then played when they enter and leave the conference.
No Notification: Selecting this option means attendees are not notified when someone joins or leaves the conference.

Click the green Save button at the bottom of the Conferencing menu. A pop-up message appears stating that the conference bridge was successfully created. Click the X in the upper-right corner of the pop-up message to close it.
After creating the conference bridge, hover your cursor over it and select the pencil icon.
The resulting page will contain all of the access information to the conference bridge:
Phone Number: The phone number the conference bridge is assigned to for internal or external access.
Extension: An extension associated with the conference bridge for internal access.
Conference ID: A 6-digit identification code a caller enters on their keypad when prompted to access the correct conference bridge.
Moderator Pin: A separate 6-digit identification code that the conference administrator enters on their keypad when prompted to manage the settings of the conference bridge.