If an Administrator is locked out of the Nextiva Voice portal or does not remember their password, it is possible to reset their password. Doing so will send an email to the Administrator with their username and a new password. Have another Administrator follow the steps below to reset an Administrator's password. If your account only has one Administrator, have an authorized user call our Amazing Service Team at 800.285.7995. 
Changing Your NextOS Administrator Password
Visit 

www.nextiva.com

, and click Client Login to log in to NextOS.
From the NextOS home page, select Voice.
From the Nextiva Voice Admin Dashboard, hover your cursor over Users and select Manage Administrators.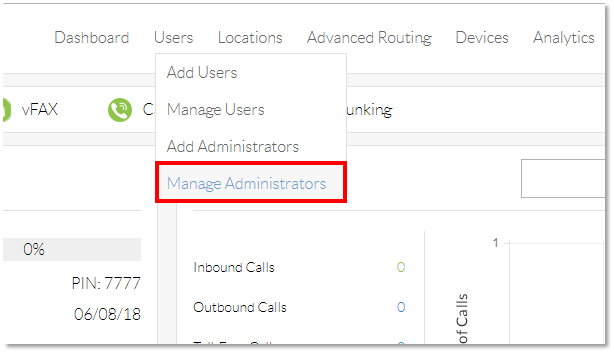 Manage Administrators
Hover your cursor over the Administrator whose password or PIN needs to be reset and click the pencil icon that appears.
Pencil Icon
Click the Security Information section.
Click the blue Reset Password link toward the bottom of the screen. A pop-up message will confirm if the administrator information has been updated.

Confirmation Message
An email will be sent to the administrator whose password or PIN has been reset with a temporary password or PIN.

Log into NextOS using the credentials in the email.

Change the password and enter a new security PIN.

Password Reset
Click the green Continue button to update the password.