This article will help explain the different roles that the administrator and users play in accessing the account, making changes or working with the Nextiva Support team. As the account holder, you are the primary administrator with full access to the account. You can setup additional administrators if you like. All users can access a user-only portal if access is needed, as well.
---


What is an administrator?

An administrator will have the ability to add and remove Users, Locations, Call Groups, Auto Attendants, Call Center queues and Devices via the administrator dashboard (Figure 1-1). Additionally they can access billing, licensing and porting details, as well as Analytics *when applicable. You can create as many additional administrator logins as you like.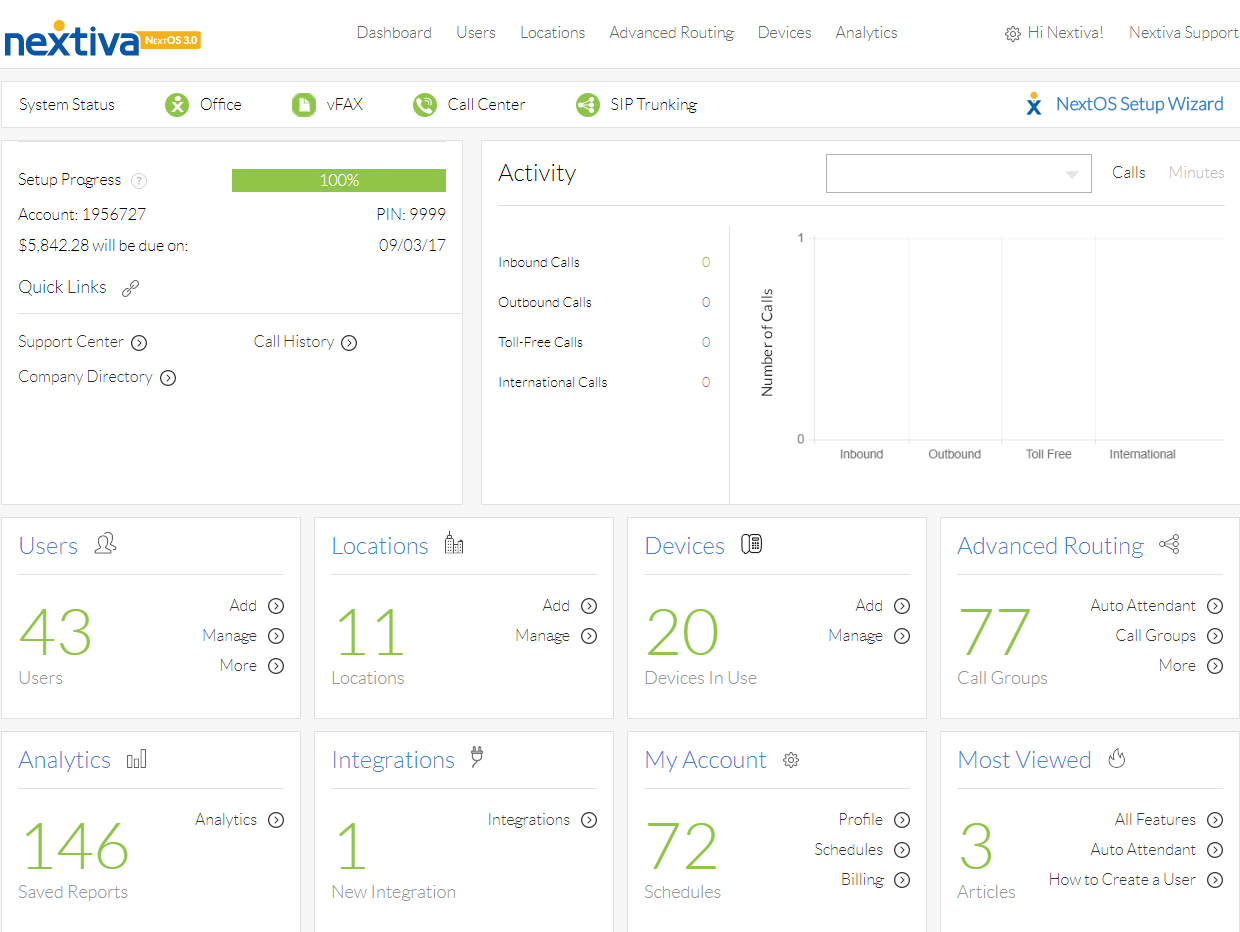 Figure 1-1: Administrator Dashboard.
Administrators will have high level access to all users on the account, and they can be a good point of contact for users who forgot their voicemail PIN or need a password reset sent to them. Additionally, with the use of the 4 digit PIN code that is created along with the administrator account, an administrator can receive support and account-specific Customer Proprietary Network Information (CPNI) when reaching out to the Nextiva Support team.
They may also have access to (Figure 1-2):
Profile and account details
Schedules
Billing
Call History
Licensing
Porting
Numbers on the account
Setup Wizard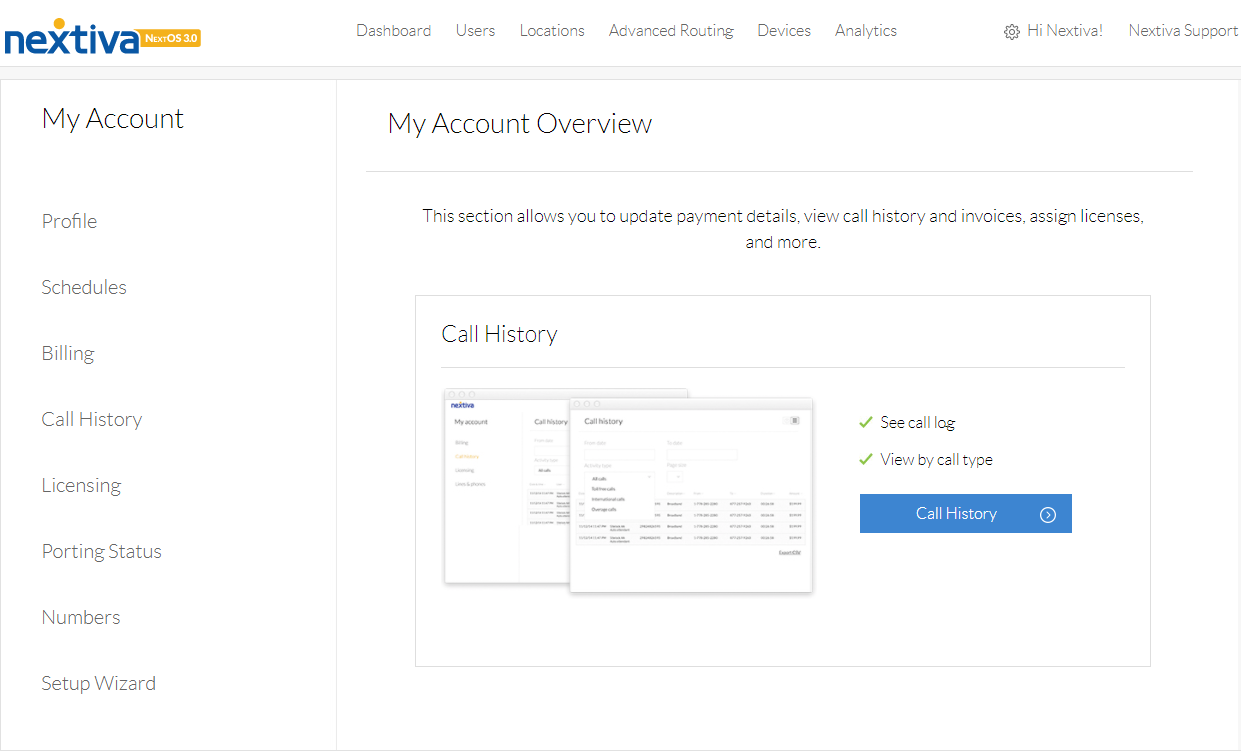 Figure 1-2: My Account.
There are three individual permission sets that allow for the ability to view and modify sensitive information (Figure 1-3). They are:
Administrator Management: This permission gives the Administrator the ability to add, remove, and modify current Administrators on the account.
Billing Management: This permission gives the Administrator access to update the payment method and review previous invoices.
Licensing Management: This permission gives the Administrator the ability to assign and manage the licenses that are currently on the account.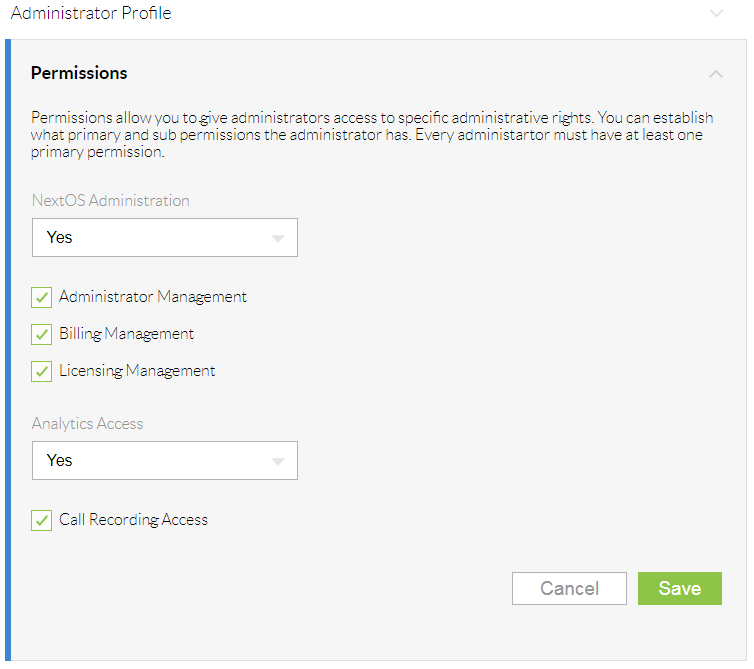 Figure 1-3: Permissions.
You can also limit who has access to Nextiva Analytics if that is part of your plan.
To create a new administrator, click "Add" under the User menu at the top of the NextOS 3.0 portal (Figure 1-4).

Figure 1-4: Add Administrator.
---


What is a user?

Any seat at Nextiva that is attached to a phone will have a user portal associated with that seat (or extension). A user will have the ability to affect changes on their personal account only, and they will not have access to any other users, advanced routing capabilities, or account level changes (Figure 2-1). Users who utilize the Receptionist dashboard or Call Center Supervisor views can access those addons via their user portal as well.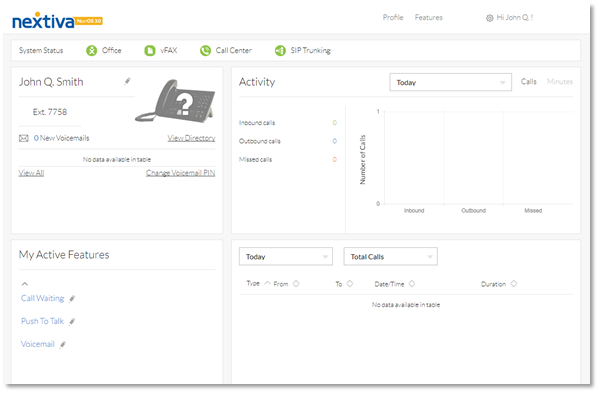 Figure 2-1: User Dashboard.
Users can log in to change their voicemail PIN, password, and modify features such as call forwarding, Busy Lamp Field, Simultaneous Ring, etc. They can also make changes to their Name, Email and Time Zone, as well as upload any greetings they would like to use for their voicemail (Figure 2-2).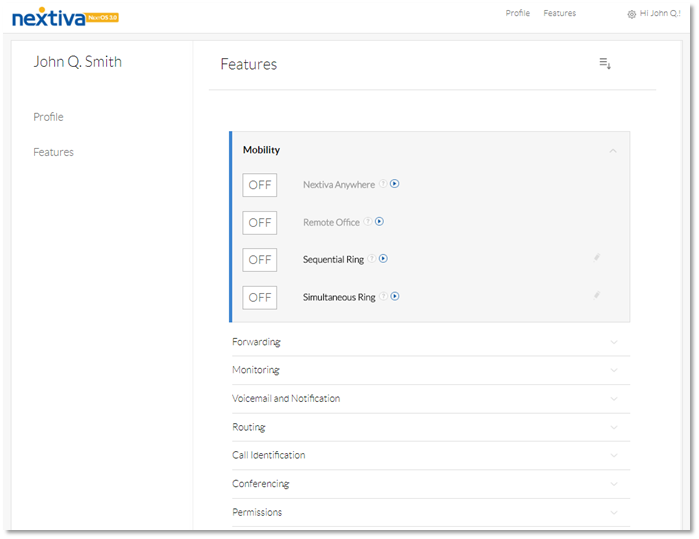 Figure 2-2: User Feature List.
Unless an Administrator checks the "Authorized User" box under "Security Information" when viewing the user, the end user will only be able to receive general, non-account specific assistance if a problem is encountered and the user contacts Nextiva Support. Only authorized users with valid PIN numbers can work with support on account-specific problems or requests.
---
To contact our support team please email us at support@nextiva.com, Submit a Ticket, or give us call at 800.285.7995.