Swipe right or tap the Menu button on the top-left corner of the screen and tap Settings. Settings include the most commonly accessed user-level call settings and features, including Do Not Disturb, Forwarding, and Voicemail options.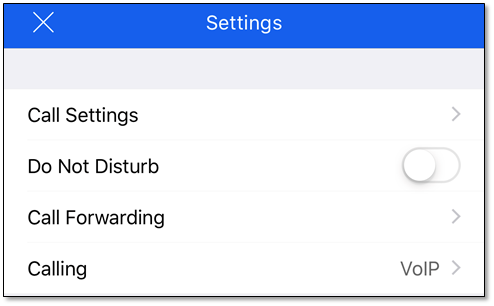 Settings
Do Not Disturb: Enable/disable Do Not Disturb.
Call Forwarding: Enable/disable or update Call Forwarding Always settings.
Calling: Choose how to make and receive calls from the Nextiva Mobile App. Users can choose to use VoIP or cell data and the desired network (Wi-Fi or 4G). If VoIP is enabled, the Caller ID will display the Nextiva phone number assigned to the User.
Under Call Settings, select Incoming Calls to turn on/off Do Not Disturb, Anonymous Call Rejection, Remote Office, and Call Waiting. Users can also configure or update Call Forwarding, Simultaneous Ring, and Sequential Ring settings.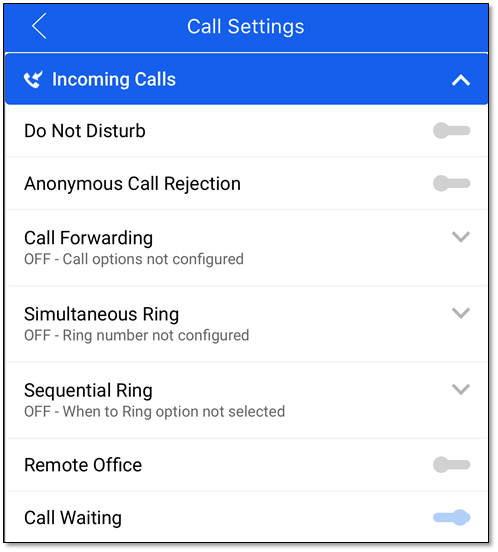 Incoming Calls Settings
Under Outgoing Calls, Users can configure the following settings:
Block My Caller ID: Block the outbound caller ID. The Caller ID will display Unavailable if this feature is enabled.
Automatic Callback: If calling another Nextiva User in the same Group/Location, Users can receive an automatic callback if the other person is already on a call. This feature allows the caller to receive a call-back reminder as soon as the other party is available.
NOTE: The system will monitor the busy party up to 30 minutes to determine when/if they become available.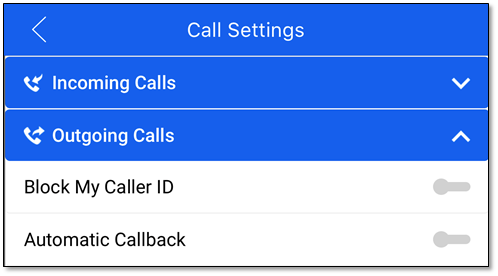 Outgoing Calls Settings
Under Voicemail, Users can configure many voicemail settings such as the number of rings before sending calls to voicemail, voicemail to email, and the option to press "0" to transfer to an operator during the voicemail greeting.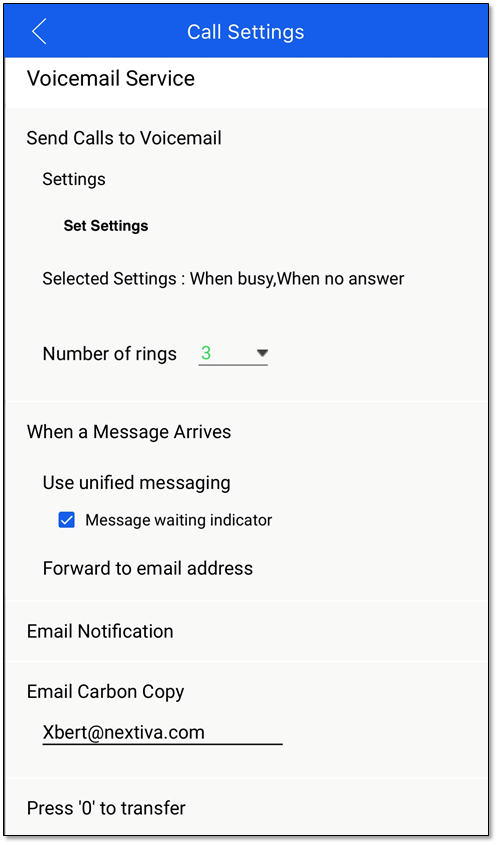 Voicemail Settings
Under Call Control, Users can update Call Center ACD statuses and Nextiva Anywhere settings.
NOTE: Call Center Queues will only appear if the User is assigned to a Call Center Queue and has an assigned Call Queuing or Call Center license.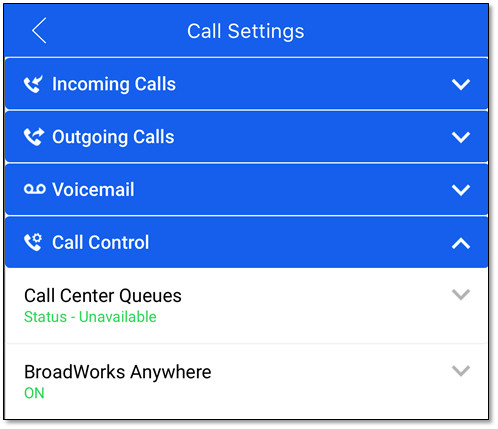 Call Control Settings
Related Articles: