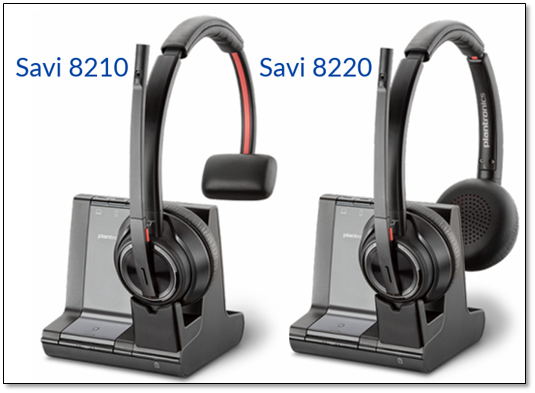 The Plantronics Savi 8200 Series headsets provide enterprise-grade audio for a premium listening experience. The headsets deliver hi-fi stereo sound and noise cancelling technology to block out background noise, further increasing audio quality.
With one-touch controls to answer and disconnect calls, change the volume, activate noise cancellation, and mute, you can manage calls from any connected device close enough to the base unit.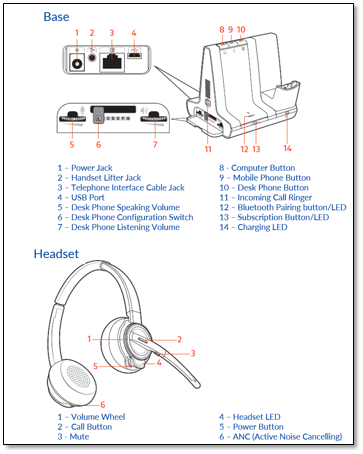 Savi 8200 Series Base Unit and Headset Control Diagram
Powering Up
Place the headset comfortably on your head and press the Call button on the headset, or press an Audio button on the headset base unit.

Listen for a dial tone by removing the handset from the cradle (unless connected to a mobile device).
NOTE: You will automatically hear a dial tone when you press the Call Control button on the headset if you connected the headset to the desk phone with an EHS cable (sold separately).
Dial from your mobile device, softphone, or desk phone.
Answering and Ending a Call
Press the Audio button

on the headset base unit or tap the headset Call button.
Answering a Second Call
Press the headset Call button for 2 seconds while on an active call to place the first call on hold and answer the incoming call. Press and hold for two seconds again to switch between calls.
Muting
Press Mute to enable and disable mute. A message will play that will tell you if mute is on or off.
Adjusting the Volume
Spin the Volume wheel on the headset counter-clockwise to increase volume and clockwise to decrease volume.