How can businesses motivate and engage employees? When employees are motivated and engaged, they perform better. Companies can drive employees to reach higher levels of accountability and performance by integrating game elements in the workplace. This technique, called Gamification, incentivizes employees to achieve objectives by encouraging competition and introducing rewards.
Gamification can improve business performance for companies with teams of sales agents, customer service representatives, and more. With leaderboards on display for all to see, employees can monitor not only their own progress and achievements but also those of their colleagues with whom they can compete for the top spots.
For example, insurance agents can vie for the top spot in the number of calls made to potential clients. Tech support agents can compete with their co-workers for averaging the least amount of time spent on the phone to resolve customer issues. Gamification does not limit competition to individuals. Businesses can use gamification to inspire competition between groups as well. Teams in different locations, for example, can compete against each other.
Create and display gamification leaderboards with Nextiva Voice Analytics.
Visit nextiva.com, and click Client Login to log in.
If logging in from Nextiva Voice (purchased before Dec 2020), select Voice > Analytics.
If logging in from NextOS (purchased after Dec 2020), select Communication > Phone System > Voice Overview > Go to Analytics.
On the Nextiva Voice Analytics Home Page, click the Monitor tile or select Monitoring in the top menu bar.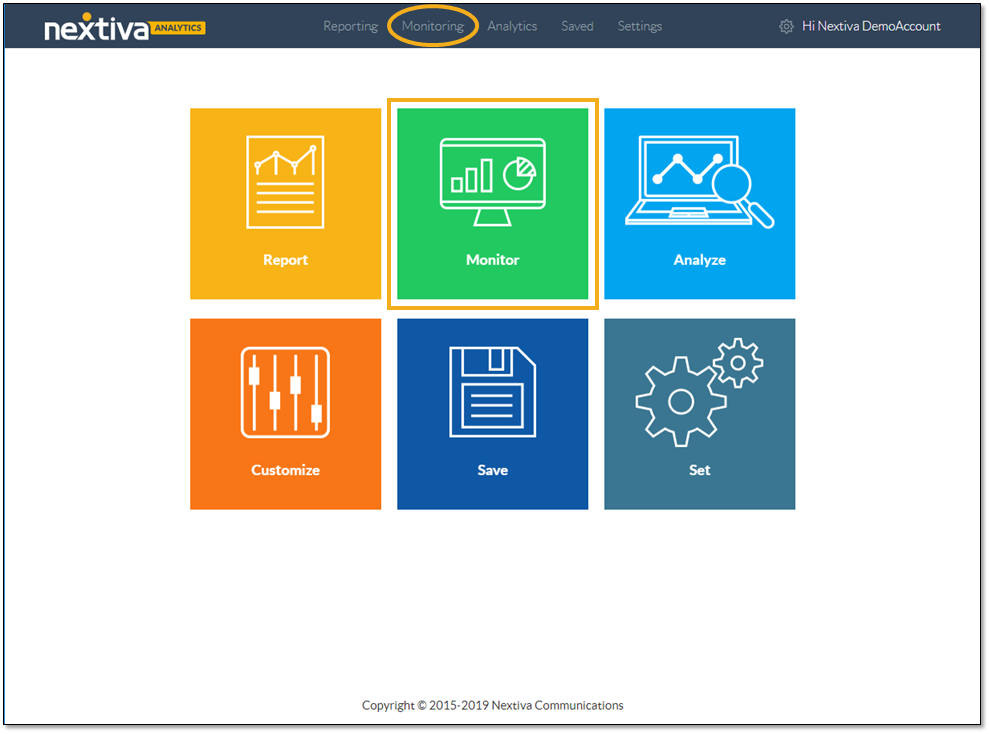 Nextiva Voice Analytics Home Page
On the Gamification tab, customize the leaderboard.
Select the desired time range.
Click to turn real-time data ON (blue) or OFF (gray).
Click the Slider icon to open the configurator.
Pop out the leaderboard to view it in a separate tab or window.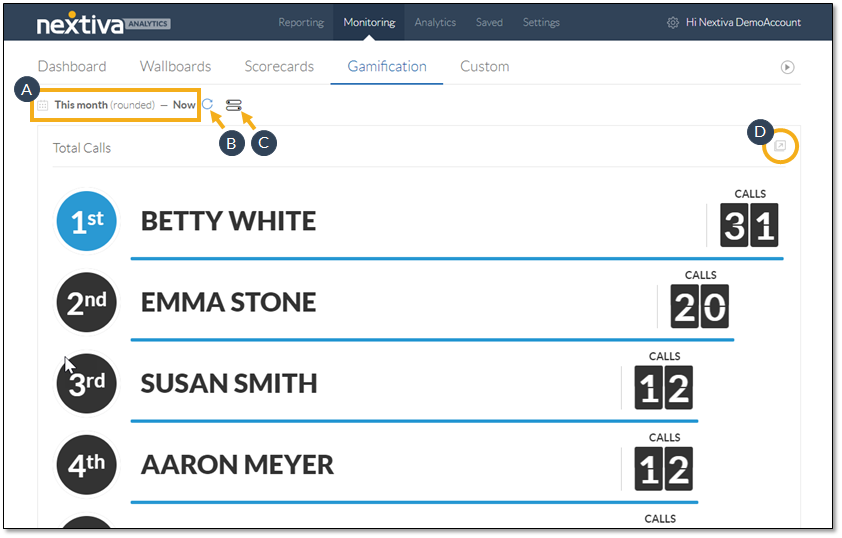 Gamification
The configurator includes six tabs for the leaderboard settings: Board Type, Board Theme, Metrics, Filter Type, Filters, and Per Page.
On the Board Type tab, select the desired format to display the information.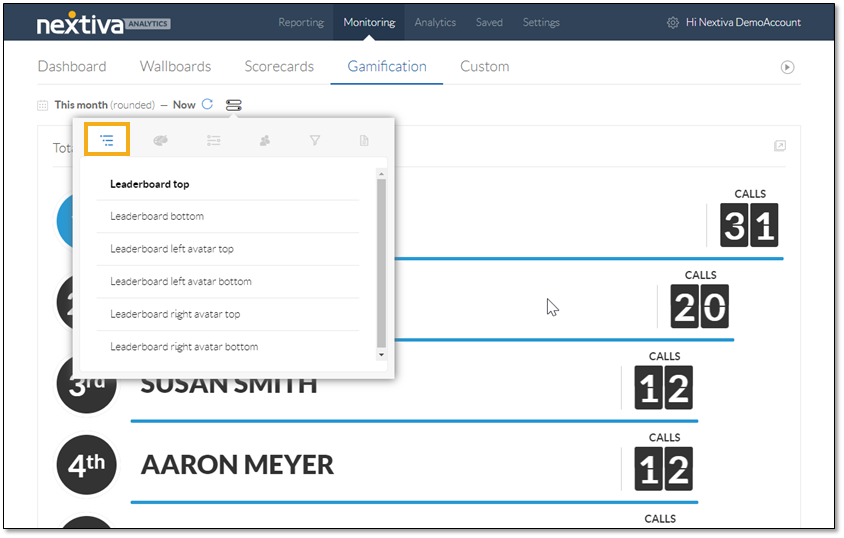 Board Type
Select the desired theme for the leaderboard from the Board Theme tab.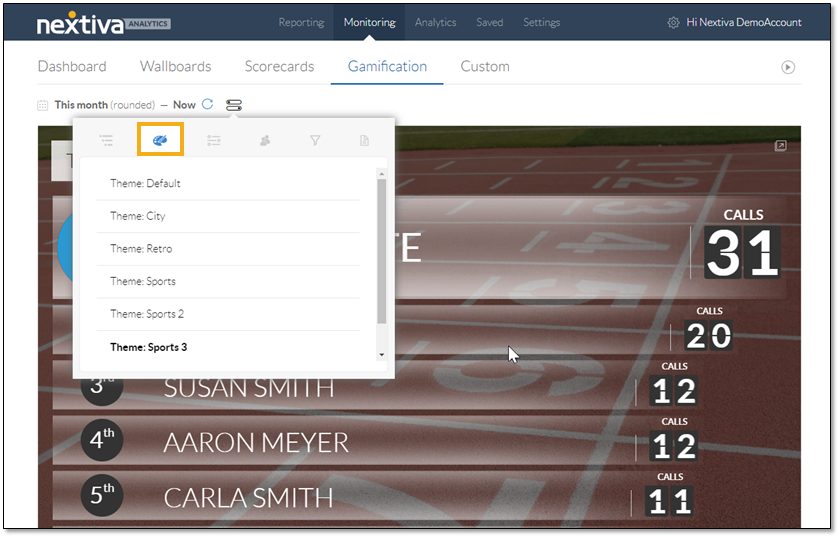 Board Theme
On the Metrics tab, choose the quantitative measurement to display on the leaderboard.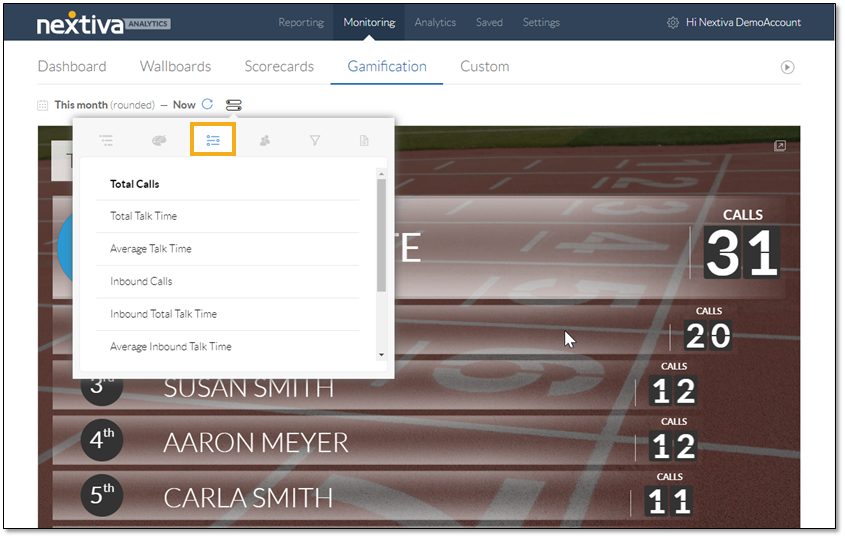 Metrics Tab
On the Filter Type tab, determine the competitor type.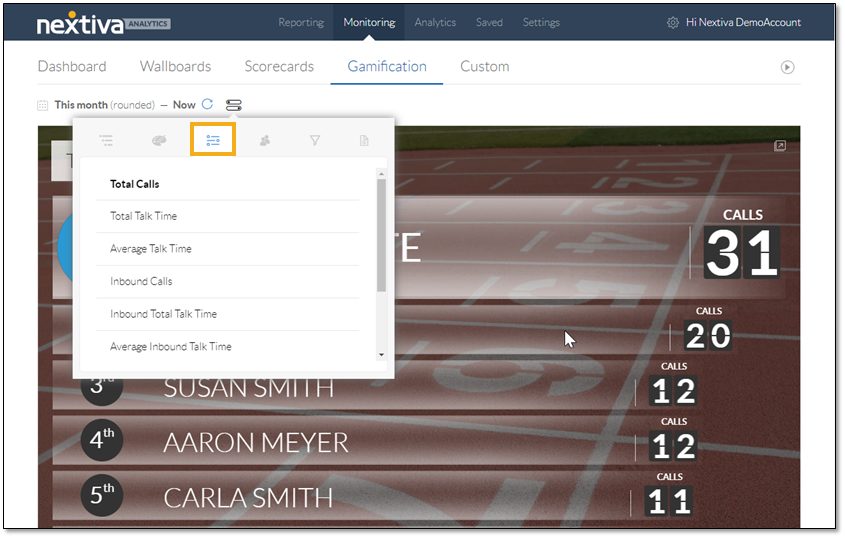 Filter Type Tab
Use the Filters tab to select the specific competitors to include on the leaderboard.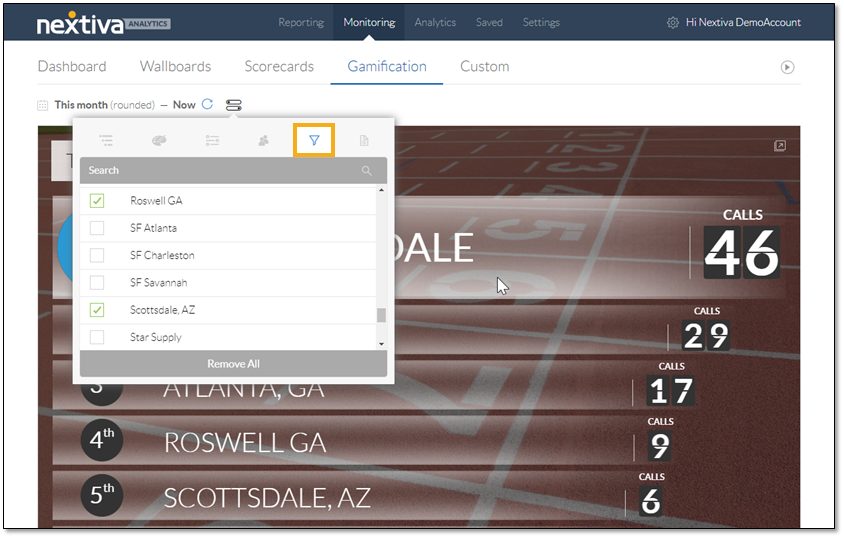 Filters Tab
Determine how many top or bottom performers to display Per Page of the leaderboard.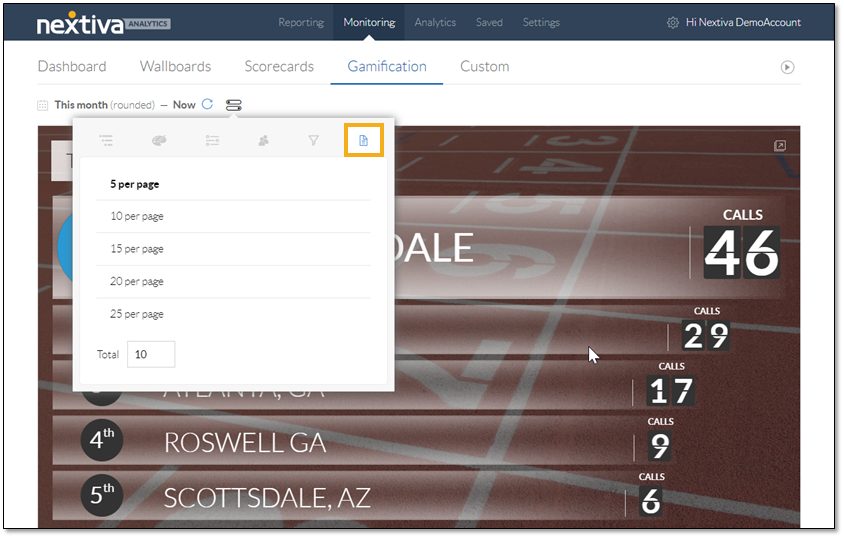 Per Page Tab
With Nextiva Voice Analytics, companies can boost employee engagement and accelerate employee performance.
Related Articles: