Nextiva SMS is a Unified Communications as a Service (UCaaS) feature that empowers users to send and receive text messages with their Nextiva App to and from any SMS-enabled number (like a cell phone). All messages sent to a Nextiva phone number are stored in the Chat section of the Nextiva App, eliminating combined personal and business related text/SMS message traffic.
Messages sent from the Nextiva App to an SMS-enabled number are stored in the standard SMS deposit location (iMessage, Messages etc.) for the recipient. You will need to create a new contact for each SMS recipient, even if they are located in your company Directory, with the IM field formatted as 15556667777@smsnextiva.com. 
NOTE: If you only use the Nextiva App, the Chat section (where SMS messages are stored) is cleaned up every 7 days. Please copy and save any chats you wish to keep.
NOTE: As a prerequisite, an Office Pro Plus or Office Enterprise license, or Nextiva App add-on, is required to use the Nextiva App to send and receive SMS messages. There is an initial setup that must be completed as well. Please Submit a Ticket to request the SMS feature to be enabled.
Click the links below to jump to the corresponding section:                                      
To Add an SMS Contact:
Open the Nextiva App and tap the Contacts icon at the top, then tap the Plus Sign at the top-right.
Tap Add Contact.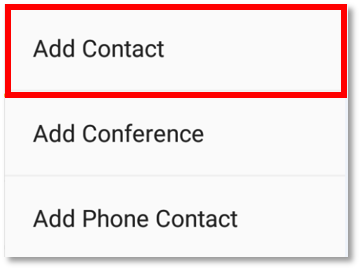 Adding a Contact
Enter the Display Name and the IM Address of the Contact using the following format:
Example: 15556667777@smsnextiva.com
Enter any additional information for the Contact, then tap OK at the bottom of the screen.
To Send an SMS to a Contact:
Open the Nextiva App and navigate to the Contacts section.
Locate the contact you want to send an SMS to in the My Contacts section and tap the Contact.  
NOTE: If the contact is already in your Directory, you need to create a duplicate contact in the Contacts section. If you attempt to send a message to a Contact in your Directory, you will send an Instant Message to their Nextiva App and not an SMS. Nextiva recommends naming the Contact with – SMS at the end of the name to distinguish the SMS Contact.
Tap the Chat button.
Type your SMS message in the Type your message field, then press the Send key.
When you receive a reply, the SMS will be in the Chat section of your Nextiva App.
To Receive an SMS:
Open the Nextiva App and navigate to the Chat section.
All SMS messages that have been received but not viewed will display a notification icon , as well as a push notification if the feature is enabled on your device.

Chat Push Notification
All received and sent SMS messages will be stored in the Chat section in the Nextiva App.