Go Integrator is a powerful, desktop-based Computer Telephony Integration (CTI) and unified communication software suite, which gives users a high level of integration and expanded communication options, as well as integration with the Nextiva voice platform.
Go Integrator allows you to dial any number with ease, sync customer records with our extraordinary voice platform, and work collaboratively. It's not only guaranteed to save you time, but it is also very easy to set up and maintain, at a fraction of the cost of other integration tools.
Go Integrator for Nextiva comes in two versions: Lite and DB (database). The Lite version offers simple integration with many standard address books and email applications, such as Outlook. Click here to set up Go Integrator Lite.
Go Integrator DB: 
Go Integrator DB is designed to help you get the most out of your Nextiva-hosted business communication system. Click-based call control saves time and eliminates dialing errors. With Go Integrator DB, every employee's productivity can be increased. Screen pops show the caller's phone number and other relevant customer data while your phone is ringing.  Click to dial any contact directly from within the CRM application, website or address book. 
Concurrently search many supported CRMs, and address books, and click to dial from the results
Copy any phone number to the clipboard in order to dial it quickly
Examine your call history, and view and return missed calls with ease
Enable insight into teammate availability, using native presence information
Installing Go Integrator DB: 
NOTE: To log in to Go Integrator DB, you must first purchase the appropriate package. Please call 800-799-0600 to add the package to the User account, then proceed with the instructions below.
Follow the instructions to complete the installation. Once installed, launch the application
Under the Telephony section of the General category, enter the Username and Password for the Nextiva User that will be using Go Integrator.
NOTE: You must enter the @nextiva.com portion of the Username for a successful login.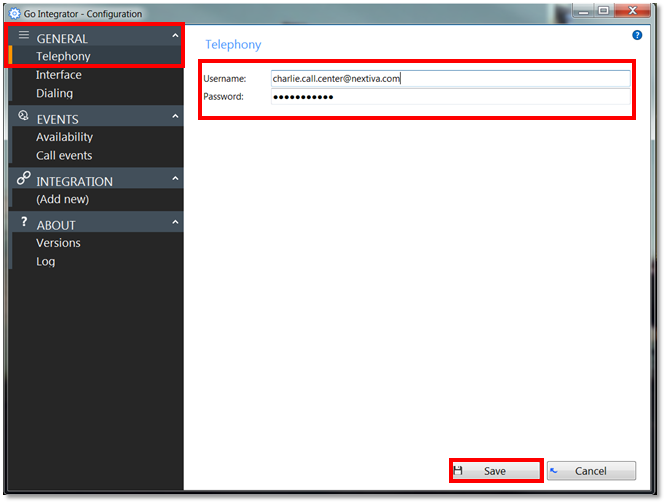 Entering NextOS Login Information
Click the Save button. A confirmation message should populate. Now you are ready to set up integration with your customer address books and CRMs, including Salesforce. For integration assistance, click HERE.
NOTE: If you see an error message similar to "You are not licensed to use CLIENT, CRM integrations." please contact your Sales Associate to verify that the package has been added successfully.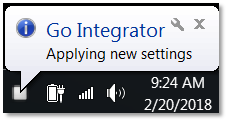 Logging in to NextOS