We recommend that you program your call routing before incoming calls are received to your Call Center. From routing all calls to a specific list of Agents, to offering all Agents incoming calls simultaneously, there are a number of different routing options available. This article is an overview of how to set up routing for your Call Center.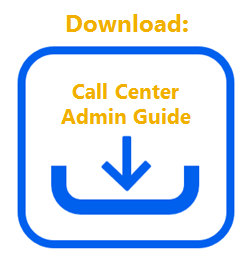 Adjusting Call Routing:
Visit 

www.nextiva.com

, and click Client Login to log in to NextOS.
From the NextOS home page, select Voice.
From the Nextiva Voice Admin Dashboard, hover over Advanced Routing and select Call Center Locations.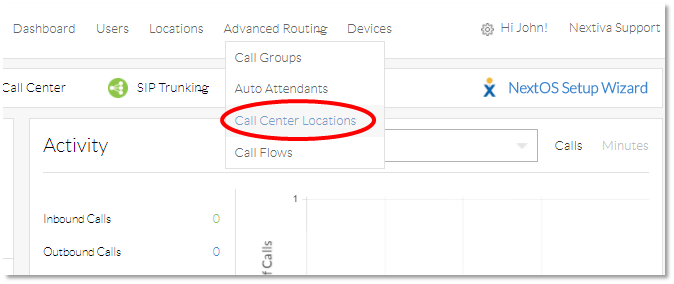 Call Center Locations
Once in Call Center Locations, select the Log In button to navigate to the Configuration Portal.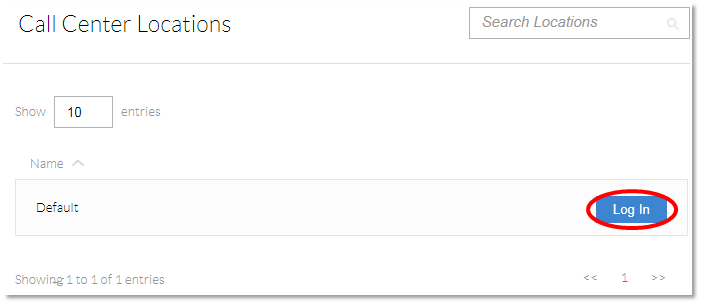 Configuration Portal Login
Once the Configuration Portal launches in a new tab for convenience, select Call Center on the left Navigation Pane, then select Call Centers.

Opening the Call Centers View
If you have more than one Call Center, you will see a list of Call Centers on the next page. Find the Call Center that you want to configure and click on Edit at the end of the row, or on the Call Center name directly.

Opening the Call Center Configuration
Once the Call Center Profile screen opens, select the Profile option under the Basic column.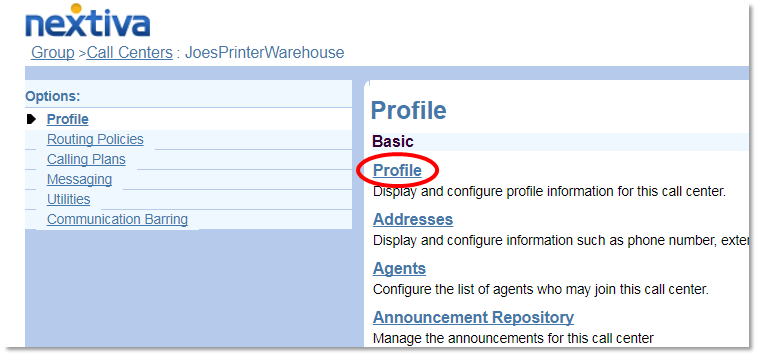 Enter the Call Center Profile
You will see several options to route calls coming into the Call Center which are available to all three (Call Queuing, Call Center Pro, and Call Center Enterprise) Call Center plans.  
NOTE: If the Call Center was set up as a Skill Based Call Center, only the first three options below will be available: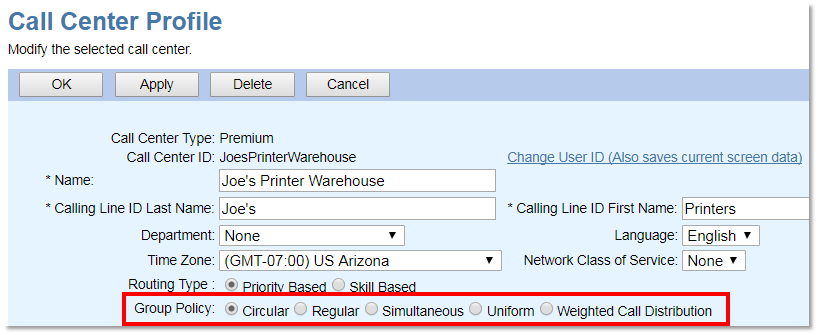 Group Policy Options
Circular: A Circular Group Policy is assigned to a Call Center when a "Round-Robin" effect is desired.  The policy circulates routing the phone calls to the Agents assigned to the Call Center based on the order assigned.  If three agents, for example, Bob, Fred, and Sallie, are assigned to the Call Center, the policy will attempt to route the first phone call to Bob.  Once Bob has successfully taken a call, it will then try to route the next phone call to Fred until he has successfully taken a call.  Once Fred has received his call, the next call would proceed to Sallie, and then repeat back to Bob.
Regular: A Regular Group Policy will ensure that inbound phone calls are routed in order based on how the agents were assigned to the Call Center.  If three Agents are assigned to the policy, for example, Bob, Fred, and Sallie in that order, then the policy will insist on always trying to route the first call to Bob.  If Bob is unavailable, it would then proceed to Fred, and if Bob and Fred were unavailable, it would then route to Sallie.
Uniform:  A Uniform Group Policy will ensure that the agent who has been available longest will receive the next inbound phone call.  This is the standard for how Nextiva Support Queues operate.  Once a representative has completed taking a phone call out of the queue and remains available, he will return the end of the line until he has achieved the "longest wait time."  Once he has met that criteria, the next inbound phone call will route to him.
Simultaneous: A Simultaneous Group Policy will ensure that all assigned users to the Call Center ring at the same time when an inbound phone call has been routed to the queue.
Weighted Call Distribution: Weighted Call Distribution Policy allows Administrators to determine percentages that will be assigned to all Agents within the Call Center to receive inbound phone calls.  Percentages assigned to Weighted Call Distribution must meet the collective requirement of 100%.
Examples of Weighted Call Distribution may entail assigned percentages to an agent for Sales or Training related purposes.  Bob, being the most skilled inbound call taker, may have an 80% Weighted Call Distribution, while Fred may only have 15% and Sallie 5%.  For example, if 100 calls come into the queue in a given day, the Group Policy will attempt to deliver 80 calls to Bob, 15 calls to Fred, and 5 calls to Sallie.
Click the OK button to save the changes.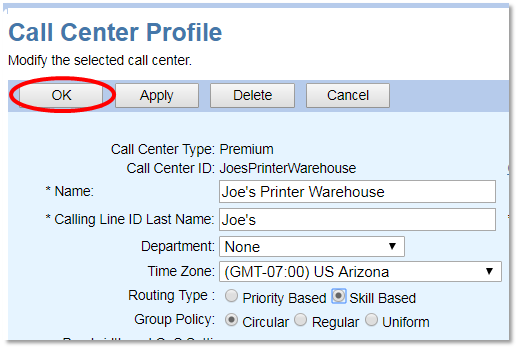 Save Group Policy Changes
If you have more than one Call Center, repeat steps 5-9 to adjust the routing for each Call Center.