NextCon17 has arrived! After months of planning, today over 830 attendees arrived at Talking Stick Resort in Scottsdale, AZ, to listen to a full day of sessions about how to achieve high levels of customer experience and business growth.
Panels were captivating; speeches were funny, heartwarming, and informative; and attendees spent the day feverishly documenting every nugget of wisdom in their notebooks and on their laptops.
Today's top 10 moments – in countdown order:
10. The Blind Connections, Nextiva's own rock band (comprising several employees), opening the day with an original song about NextCon and getting the crowd pumped up.
9. Speaker and digital analyst Brian Solis explaining why companies must think like their customers and respond to their behaviors in order to have a winning business.
"You can compete at the level of customer experience and WIN!" he said. "You don't necessarily have to have a better product or service. Innovation starts with a shift in perspective."
8. Carol Roth, speaker, business expert and action figure muse (ask her about it!) giving the audience a five-pillar framework for keeping customers loyal, including creating a community around a product/service.
"Think about Harley Davidsons," she said. "They don't always offer the best bikes, but by owning a Harley you are PART of something bigger—a community."
7. The announcement that, for every time an attendee submits feedback from a session on the NextCon app, they are entered to win hundreds of dollars of Amazon gift cards and a $900 Dell monitor. That's free money, people.
6. Listening to Jim Lundy of Aragon Research explain the importance of the customer journey.
"Your customer might remember a good buying experience, but a terrible billing experience," he says. "There needs to be communication and collaboration across all levels of an organization to be effective."
5. Nordstrom's Lois Evers explaining that good customer service comes down to empowering employees to make their own decisions.
"Don't make your problem the customer's problem," she said. "They shouldn't know what goes into making it work. Just make it work."
4. Marketing strategist Lane Sutton articulating why businesses should focus on a job candidate's experience as much as they do the customer experience.
"HR is 10 years behind where marketing and sales are right now," he said. "We are forgetting the candidate experience, and we can't because some candidates become our customers."
3. Attendees and speakers sharing #NextCon17 on all social media channels. Every time someone uses this hash tag, Nextiva is donating $10 to Bret Michaels' Life Rocks Foundation. (Readers: even if you aren't here, consider using the hash tag – it still counts!)
2. Poly's CEO Mary McDowell being interviewed by Nextiva's CMO Yaniv Masjedi on the future of telecommunications, Poly's presence in the market, and her thoughts on how to build a team.
"No one is too good to be an asshole at work," she said. "I'm from the Midwest, so when I disagree with people, I'm nice but not soft. I teach people to be the same."
Drumroll please…the best moment of NextCon17's Day 1 was:
1. Tomas Gorny, Nextiva's co-founder and CEO, unveiling the highly anticipated NextOS!
"Nextiva is merging and unifying business communication, team collaboration, customer engagement and analytics all on one modern platform. We are taking full accountability for the end-to-end customer experience. With NextOS, we are creating a single place where all your customer information lives.
"Our goal is to make every business feel and operate like a Fortune 500 company. It is time to accept the transition and get ahead of the problem. It is time to simplify the communication crisis. It is time for NextOS."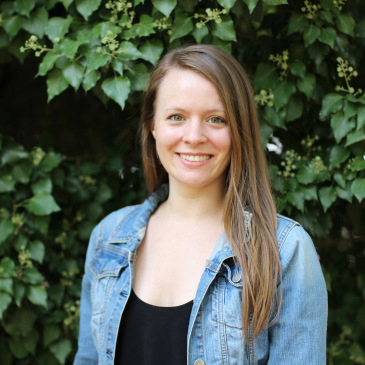 Nicole is the Marketing Communications Manager for Nextiva is passionate about our incredible growth, company culture, and promise of Amazing Service. Outside of marketing, Nicole enjoys cooking easy and healthy recipes, taking care of the office plants, and hanging out with her cat. To get in touch, follow her on LinkedIn and Twitter.