From snuggling with puppies to hosting a bra and underwear drive, Nextiva Cares made some great memories while making an impact in 2017. We raised nearly $64,000 for the 16 organizations we partnered with, and dedicated over 1,300 hours to volunteer work. Below are some favorite highlights from 2017, and our full Annual Report can be found here.
In February, Nextiva Cares partnered with A New Leaf, a local nonprofit organization that assists families and individuals on their journey to independence. To celebrate Valentine's Day, our volunteers created Valentine cards with children in their after-school program at the La Mesita Shelter. Volunteers loved working directly with the children in the program and felt that the hands-on activity made their time even more impactful.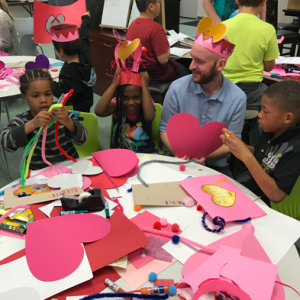 Later month, our volunteers also spent time in our Scottsdale office packing lunches for A New Leaf's East Valley Men's Center (EVMC). The EVMC provides food, shelter, basic needs, case management focused on permanent housing solutions, a navigation of community resources, work assistance, life skills classes, and financial coaching for 76 men every day. With all of the helping hands, we were able to pack 110 lunches for the center's residents in under one hour.
Hunter Plaza, a Nextiva Cares volunteer, helped with the lunches. In Plaza's words, he "had an awesome time working with the Nextiva Cares team to put together packed lunches for A New Leaf. It's a great feeling to be able to provide for others when they can't quite provide for themselves. Especially when it comes to the essentials; then you know you really are making a difference for someone."
In May, Nextiva Cares showed some extra love for animals in need by partnering with the Arizona Humane Society. Many Nextiva Cares team members participated in our volunteer events with the Humane Society's Cuddle Bunch program and our no-sew kitten-blanket workshop.
On May 17th, our Scottsdale team was fortunate enough to have AZHumane's Cuddle Bunch program visit the Nextiva office where team members not only got to take a break from the work day to play with some cute puppies, but also learn about the Humane Society's pet adoption program. We were even able to help our furry visitor, Benji, find a forever home!
Additionally, our volunteers traveled to the Humane Society's South Mountain Campus for Compassion on May 23rd to visit animals in the shelter. There, we created blankets for kittens who need extra love and attention while waiting to be strong and healthy enough for adoption. Spring is also known as "Kitten Season" because of the influx of kittens that animal shelters experience during this time of the year. With so many kittens arriving to the shelter, AZHumane needs extra support caring for animals who are too young for adoption in addition to the other animals they already care for.
Daniel Curtin, a frequent Nextiva Cares volunteer, was one of our participants during the kitten-blanket workshop. In Curtin's words, "Working with the Arizona Humane Society through Nextiva Cares was a great privilege. I recently adopted a kitten myself so to be able to go behind the scenes with the Arizona Humane Society professionals and see all the hard work and care that goes into prepping these animals for a loving home was a real treat."
Central Arizona Shelter Services
The following month in June, Nextiva Cares worked with Central Arizona Shelter Services (CASS) to help the homeless in the Phoenix community in a way that is often overlooked – with clean and new bras and underwear.
Nextiva Cares volunteers kicked off the month on June 1st by organizing hundreds of donated items at CASS's Single Adult Shelter in downtown Phoenix that houses over 400 homeless men and women each night, 4,100 people annually. For more information about what our volunteers did during our visit, check out our ABC15 news story.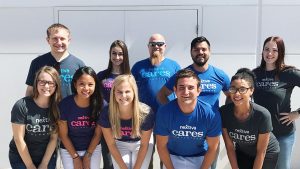 While CASS is extremely fortunate to have consistent donations from people around the Valley, sorting the donations takes a lot of time and energy. While volunteering on-site, the Nextiva Cares team noticed that there weren't any undergarments being donated. David Smith, CASS's Development Director, explained that when people donate items for the homeless, bras and underwear are often disregarded and are currently a huge need for their clients. Because of this, we decided to continue our philanthropic efforts beyond our volunteer event that day.
For the remainder of the month of June, Nextiva Cares hosted an internal donation drive solely focused on bras & underwear at Nextiva's Scottsdale office. We combined departments to create teams and used the excitement of competition to challenge each other to give back as much as possible. In total, we were able to donate nearly 500 bras and pairs of underwear for both men and women facing homelessness in Phoenix.
Steve Varvel, a committed Nextiva Cares volunteer, was so excited to participate in the internal donation drive. Varvel explained, "It is amazing how we all came together and made the CASS charity drive a huge success. We are happy to help because we want to make a difference in peoples' lives. That is what Nextiva's Amazing Service is all about!"
For most families, the month of July is filled with days spent at the pool, family vacations, frozen treats, and eventually, every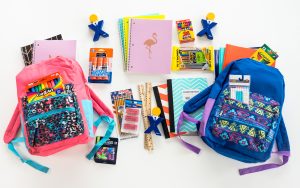 parent's favorite time of year… back-to-school prep! The end of July is an especially exciting time for most parents as they prepare their children to ditch the "summer break" mentality and head back to seven-hour school days for the next ten months. However, as exciting a time it may be, it is also an extremely expensive time of year. In fact, parents spend about $700 on average for a single child's back-to-school clothing, supplies, and activities– an expense that unfortunately, many families simply cannot afford.
This is why Nextiva Cares partnered with Southwest Human Development (SWHD) to host an office-wide school supplies drive for children in need all across Arizona. The drive included simple back-to-school items like backpacks, notebooks, paper, writing utensils, and more. In total, we were able to collect nearly eight hundred items for children in need throughout the state!
Aubrey Matlock, a Nextiva Cares volunteer, played a huge role in the event. To streamline the process and get the most out of her team members, Aubrey and others collected money from many Nextiva employees around the office and purchased donations in bulk. To take things to the next level, her manager, Mike Stotts, agreed to match every donation his team gave to double their contributions. In Matlock's own words, "Our team was able to contribute over one hundred items to help kids get ready to go back to school. We felt like it was our job to bring sunshine to their lives and we are so happy that we had the opportunity to help in a time of need."
Barrow Neurological Foundation
In September, Nextiva Cares partnered with the Barrow Neurological Foundation to bring joy to families with children recently born with cleft lip, cleft palate, or another craniofacial disorder. Volunteers packed and hand-delivered 150 goodie bags for newborns and their families at the Barrow Cleft and Craniofacial Center (BCCC) in downtown Phoenix. The reusable bags were stocked with diapers, wet wipes, socks, teething toys, and Target gift cards – items new parents can always use.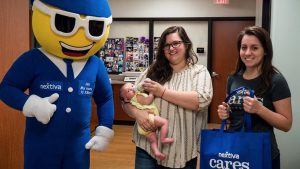 When visiting on Cleft Baby Day, which takes place every Wednesday at the BCCC, our volunteers greeted families as they arrived for their appointments with the goodie bags and kept them company while waiting for their doctor. Visiting the center for surgical consultations and other procedures to help with their child's disorder is a very scary and stressful moment for families, so the BCCC's work with Nextiva Cares and other organizations has helped make the experience as positive as possible.
Brittany Weisler, the Program Coordinator at the Barrow Cleft and Craniofacial Center, has worked with Nextiva Cares since our group participated in a similar activity with BCCC in July of 2016. After our visit on Cleft Baby Day, Weisler mentioned, "A few of the moms today took a bus or cab to get here. Any little thing means so much to them. These goodie bags will go a long way."
We had so many amazing experiences giving back to the Phoenix community in 2017! Not only did we strengthen our bond as a family, but our accomplishments have encouraged us to set bigger and better charitable goals for 2018. As we grow, we hope to make even more of an impact this coming year!
View the Nextiva Cares 2017 Annual Report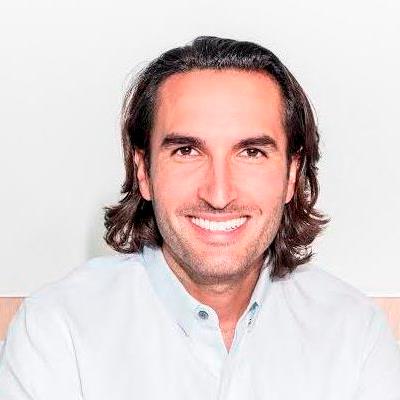 Yaniv Masjedi serves as Nextiva's CMO. An avid reader and lover of all things marketing, leadership, and personal growth, Yaniv is obsessed with creating strategies that drive awareness, strengthen brands, and create customer-centric culture. To get in touch, follow Yaniv on LinkedIn.