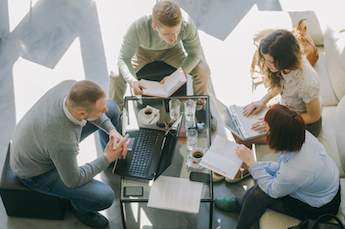 Strong businesses invest in their employees with a variety of perks, privileges, and training. However, changing times have changed the way employers deliver benefits.
For example, tuition refund was once a potential employee benefit. Now, with the cost of tuition, fees, and room and board increasing (in today's dollars) from $3,877 in 1982 to more than $20,000 per year now, few companies, large or small, can afford to pay for tuition anymore.
Still, with an ever-changing business environment and constant advances in technology, your employees need training to avoid a serious skills gap or to get them to the next level— whether or not you think you can afford it.
The good news is that the educational environment is also changing. Where the schoolroom was once your main option, a combination of employee curiosity, online opportunities, and encouragement offer many creative ways to keep your workforce current.
Here are five ideas that can enhance employee education:
1. Encourage employees to pursue their interests
You cannot bribe employees to return to school on their own dime in exchange for a promotion. But, you can encourage employees who express an interest in further education by offering flexibility. Let them leave an hour early on school nights, provide a quiet place to study during lunch time, or offer tutoring services within your own area of expertise.
You can even go a step further and follow the model of Google, which allows employees to devote a percentage of their time to pursuing their own projects for the benefit of the company. That helps employees learn and stay interested, while sometimes ending up with major innovations for the company.
2. Explore online training opportunities
With nearly 200,000 employees in the U.S. alone, it is difficult to imagine that Starbucks could possibly provide a bachelor degree reimbursement program for all workers who do not already have one. Yet, the company found ways to reduce expenses by partnering with one specific university, offering online courses only, and requiring students to apply for federal and other scholarships to help offset some of the expenses. That said, there are no restrictions on the type of education, nor is there any form of golden handcuff requiring continued Starbucks employment after an employee receives reimbursement.
Even with fewer employees, most small businesses cannot afford this type of cash outlay. But, you may consider offering a similar program with a few more restrictions, such as reimbursing tuition only for job or business-related courses.
And not just hard skills like coding, excel or math - soft skills have arguably become an even greater asset for employees seeking to level up their professional development.
Additionally, don't forget that the Internet offers any number of ways to receive high-quality training. You might find training directly on YouTube or consider free university courses from Coursera. A wide array of affordable business-related coursework is available from Udemy or Lynda.com, as well.
3. Good grade bonuses
Consider offering monetary or other incentives to employees who get top grades in college classes that you pre-approve because they pertain to some aspect of their jobs or your business. You can't offer a bonus without proof, of course. Even if a class does not provide an official grade report, there are other ways to make sure that your employees actually learned something. Perhaps the easiest way to accomplish this is to engage in a post-training interview. Don't be afraid to come right out and ask what they learned.
4. Seminar attendance
One colleague mentioned her amazement by the results of a one-week seminar attended by her lead technical writer. Each year, that writer returned to work with a revitalized spirit — and numerous new ideas that streamlined procedures, while adding quality to the company's software documentation.
In many cases, a degree is not required to enhance the skillsets of your employees. High-quality seminars offer up-to-the-minute information at reasonable prices — even if out-of-town seminars include the cost of hotels and meals. Try to look online for past-attendants' feedback to assess the value of a seminar. Then, perform a cost-benefit analysis to identify worthwhile events.
5. In-house training
What happens when technological or other changes require an educational upgrade for your entire team? You might spend less by bringing one instructor to your place of business to train a roomful of employees at once. Or, if you have certain employees with the right desire and ability, send them out for formal training so they can return to train the rest of your workforce.
Don't forget about just-in-time training as well. There are many affordable methods for giving your employees training where they need it most: on the job.
Affordable training is relevant training.
Operating on the overall belief that any investment in employees is worthwhile, Starbucks offers a liberal college assistance program. As a small business owner, your investment must provide direct benefits to your company. This might mean offering training that pertains specifically to an employee's current job, but you can also benefit from workers who obtain the skills and knowledge to move up within your company.
You don't have to do it all at once. You might want to start with a small program that grows based on its successes. But, you are bound to witness a major transformation with workers who perform their jobs with increased skills and improved job satisfaction as well.