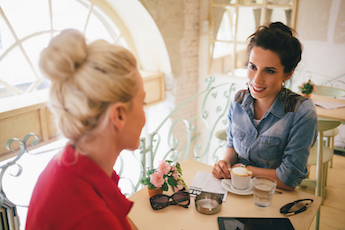 Without inspiration from a former boss, Amazon CEO Jeff Bezos might not be where he is today. In a mutual mentorship, Facebook CEO Mark Zuckerberg turns to Washington Post CEO Donald Graham for advice on being a CEO; Graham turns to Zuckerberg for social media advice. But effective mentorship does not have to apply only to top brass. Nor does the mentoring relationship have to be formal or all-consuming — and the best partnerships are mutually-beneficial.
Here are four tips to help you learn the essentials of mentoring and how to do it for mutual benefit.
1. Mentor/Mentee Matches Often Begin Informally



Mentorships often begin when you offer a bit of advice to someone or when a person comes to you for advice. Whether a co-worker approaches you to learn your secret to handling difficult customers or you offer shortcut tips to a local print shop owner to improve scheduling, you are a mentor.
In fact, those few minutes may mark the entire mentor relationship. But, it may also mark the beginning of a long-term mentorship.
2. Scout for Likely Candidates



The ability to promote from within an organization is valuable, whether you run a small business or manage a department within a multi-national conglomerate. Why seek outside candidates when you have promising employees that already have experience with the company processes and culture? The key is to identify the employees that show promise for advancement.
If you are a small business owner, you probably already know the potential of your staff. Managers at large companies, on the other hand, do not have intimate knowledge of all of the people around them. If you are a large-company manager, you might suggest company-arranged (and funded) lunches to help spot the up-and-comers. These are the people who think beyond their job descriptions. They may regularly come up with money-saving ideas and they generally recognize that departments outside their own are affected by every decision. Their ideas consider this big picture.
3. Understand the Difference Between Mentoring and Training



Mentors help develop people into their best selves by guiding them to capitalize on their own abilities and attitudes. So, while you would train a person to follow steps 1, 2 and 3, you might mentor employees to make decisions by requiring them to practice their reasoning abilities.
Have you ever felt frustrated when someone answers a question with a question? This is known as the Socratic Method and it is very appropriate in mentoring. When a mentee asks how to handle two employees that need the same resources to meet identical deadlines, for example, this is the time to ask some questions. Are the deadlines equally important? What are the consequences of missing each deadline? Are there ways to share the resources? Do not tell mentees what you would do; teach them to think it out for themselves. This is the difference between mentoring and training.
Training develops a skill set — bookkeepers learn where to put the debits and credits, sales people learn the details of the product line, and everyone learns where paperwork goes for processing. Good mentors may recommend additional training, but great mentors might wait until their mentees recognize that they need training — and ask for it.
4. Know What's in it For You



Mentorship relationships are beneficial to mentors, too. If you are a work-overloaded manager, a talented mentee can take some of the load off, even freeing you up to better focus on high-level tasks. You also gain the loyalty of someone who is likely to help you in some important way in the future.
Still, if your company requires you to take someone under your wing, it is important to be clear on the benefits that you will receive. Will you receive monetary compensation if the mentorship creates more work? Or, will your mentoring efforts make it possible for you to move up the ladder while you groom your replacement? You might undertake an informal, short-term mentorship purely for altruistic reasons, but it is reasonable (and necessary) to expect more from a formal relationship.
Mentors Need Mentors, Too



You have many abilities to pass on to promising employees — particularly if you want to retain them over the long term. But don't forget that mentors need mentors, too — even the top gun. If you own a business or run a large organization, recognize that there is a vast array of resources outside of your company doors. As you network with other business owners or executives, don't be afraid to ask for advice to help you further your short- or long-term goals. And, don't be afraid to offer advice, either.